The Star Wars Imperial Assault organiser from e-Raptor is, to date, the best insert I have used for the core game and expansions.

I received the product for free from e-Raptor to write this review but as ever, that will not stop me from giving you my honest opinion as my only loyalty is to the truth.

One of the best things about all e-Raptor inserts is the ease of putting them together. The instructions are, as ever, not as clear as they could be and you will need to concentrate when building, however, you should definitely check twice before committing to putting two parts together.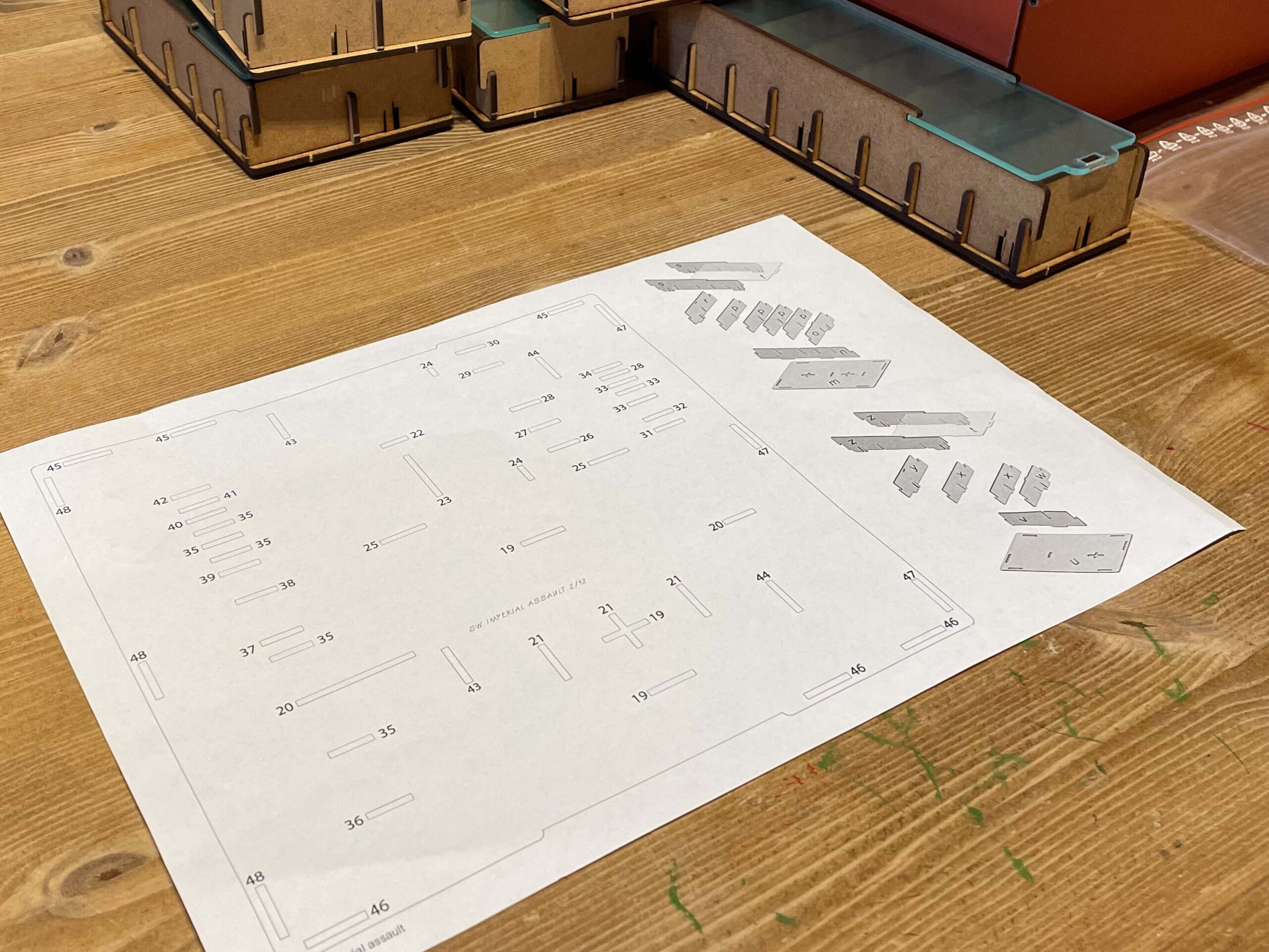 I have said it before about e-Raptor and I will say it again, a little arrow on the instructions showing exactly where a piece should go on its base would make things so much less complicated and adding a small number on or next to the part in question would save a lot of double-checking for the end-user and make the process of putting the inserts together faster and more pleasant.

The insert has several components but there are essentially three parts to the set. There is the Minifigure storage, card storage and token storage.
Imperial Assault Token Storage

The token storage is excellent. You are free to store whatever tokens you like however you like, I personally would have liked direction as to what went where with some cool icons etc, however, I know many people will like the flexibility to decide what goes where.

I really appreciate storage that also helps you get the game to the table more efficiently and then gets out of the way to let you play the game without thinking about it.

The token storage achieves both of these goals and being from a Star Wars game I will be painting my set white or grey and adding some decals like the imperial and rebel logos etc to really get them "on theme". This is of course an optional and unnecessary step, but we would play video games if it was just about ease wouldn't we?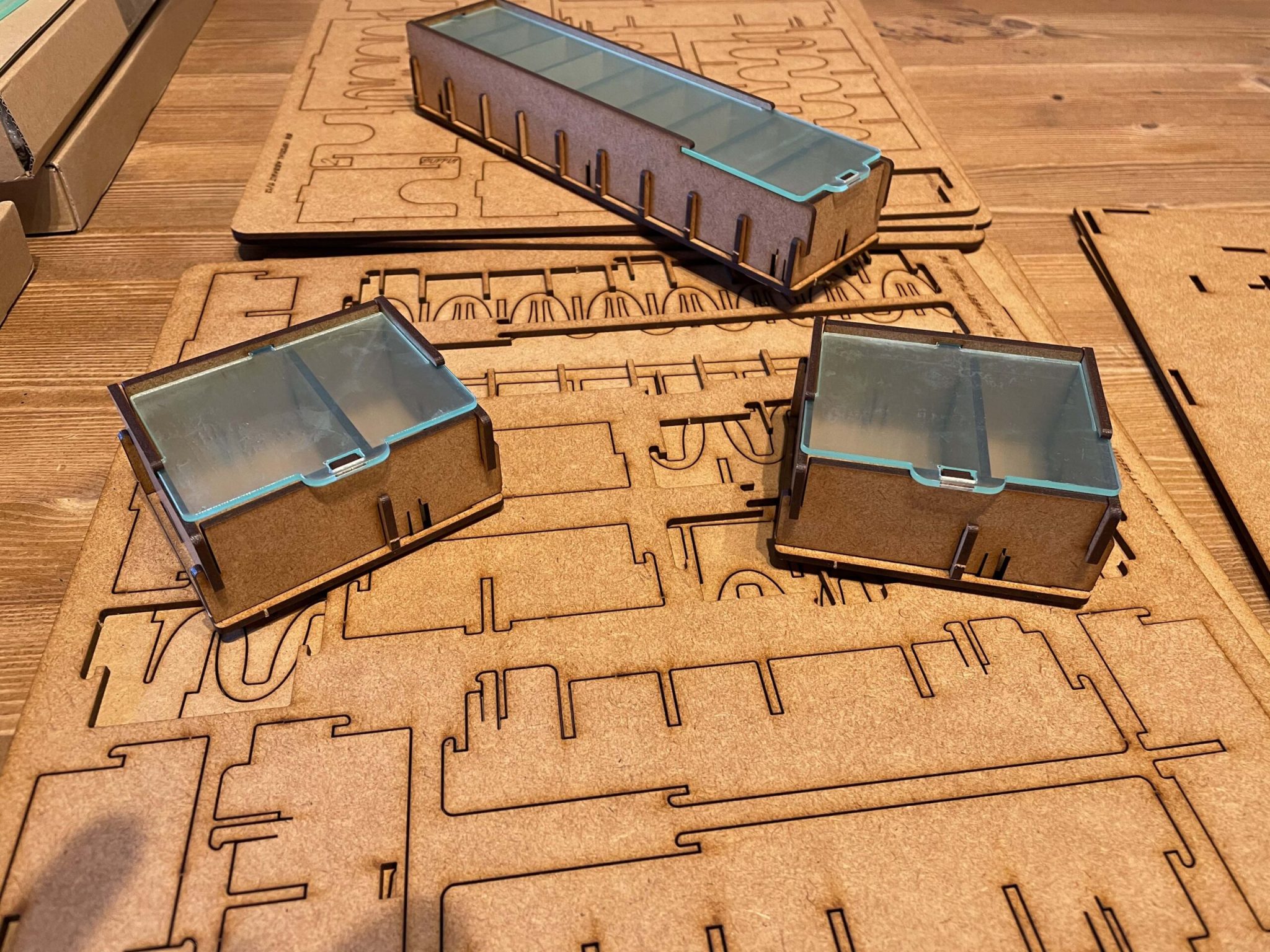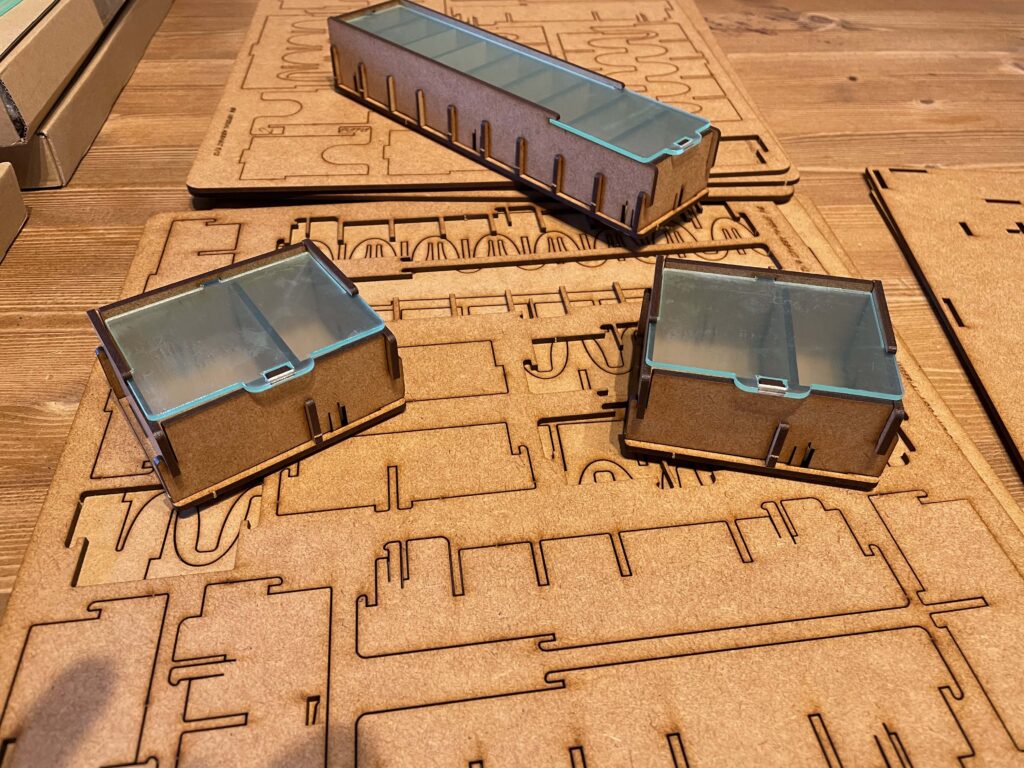 Imperial Assault Mini Figure Storage

Things start to go wrong when we talk about Mini Figure storage. This insert is marketed as Star Wars Imperial Assault + Expansions insert.

This is not strictly the case. Yes, there is plenty of space for storing miniatures but the expansions include the villain and ally packs not just the 5 big box sets, however, even then, there is no room for the Rancor or Jump Troopers from Jabbas Realm, the AT-ST from the Core set or the AT-DP from Heart of the Empire which means your most impressive miniatures will need to be housed elsewhere.

If you purchase the ally and villain packs too (we all do, don't we?) then you are out of luck. There is absolutely no room for the larger characters such as the Bantha rider, Jabba the Hut or Captain Terro on his Dewback or General Weiss in his over weaponised AT-ST.

The idea of a storage solution is to protect your investment and I do not feel that the Star Wars Imperial Assault insert from e-Raptor does this job adequately because it leaves such a huge amount of my collection vulnerable.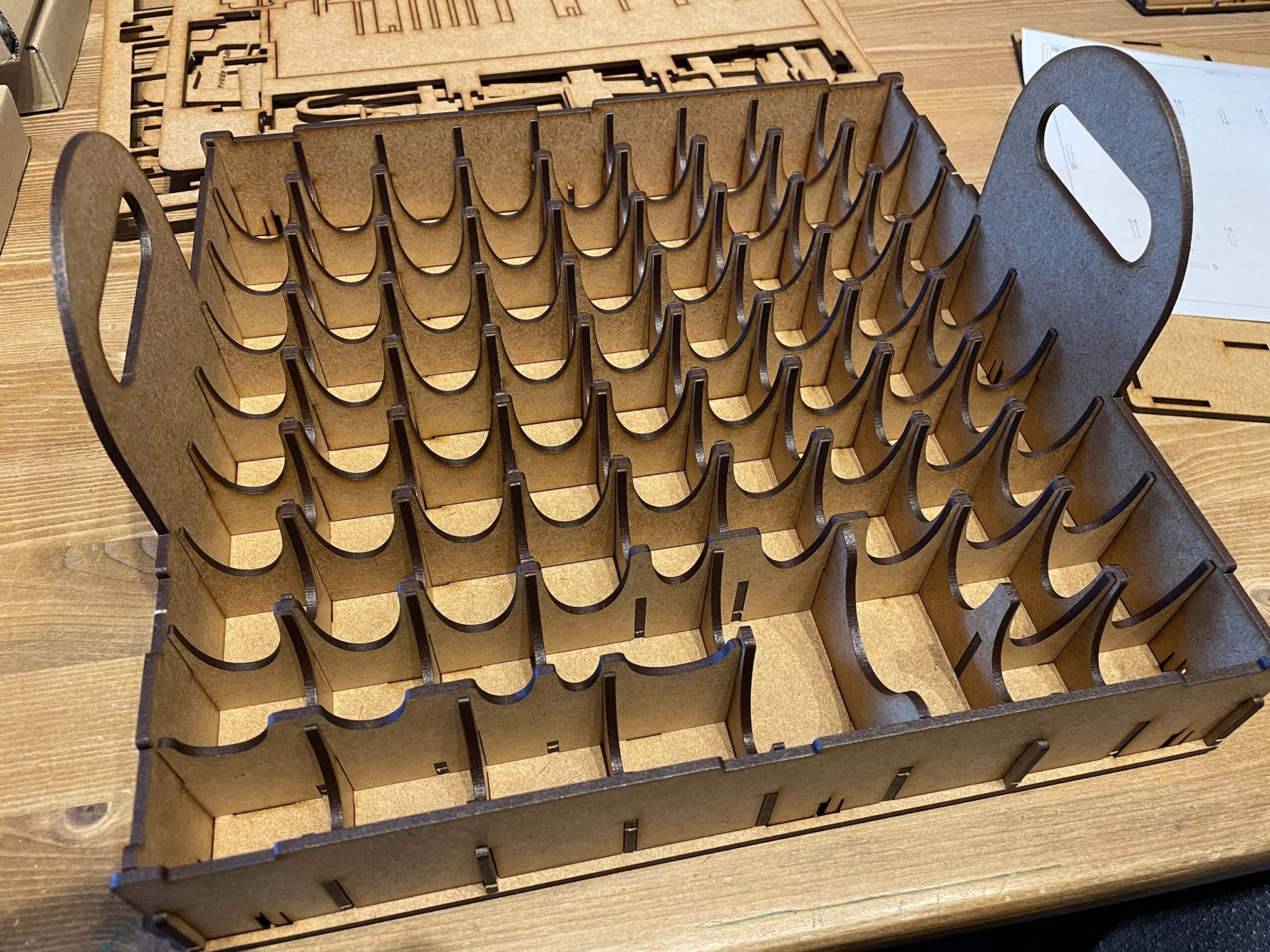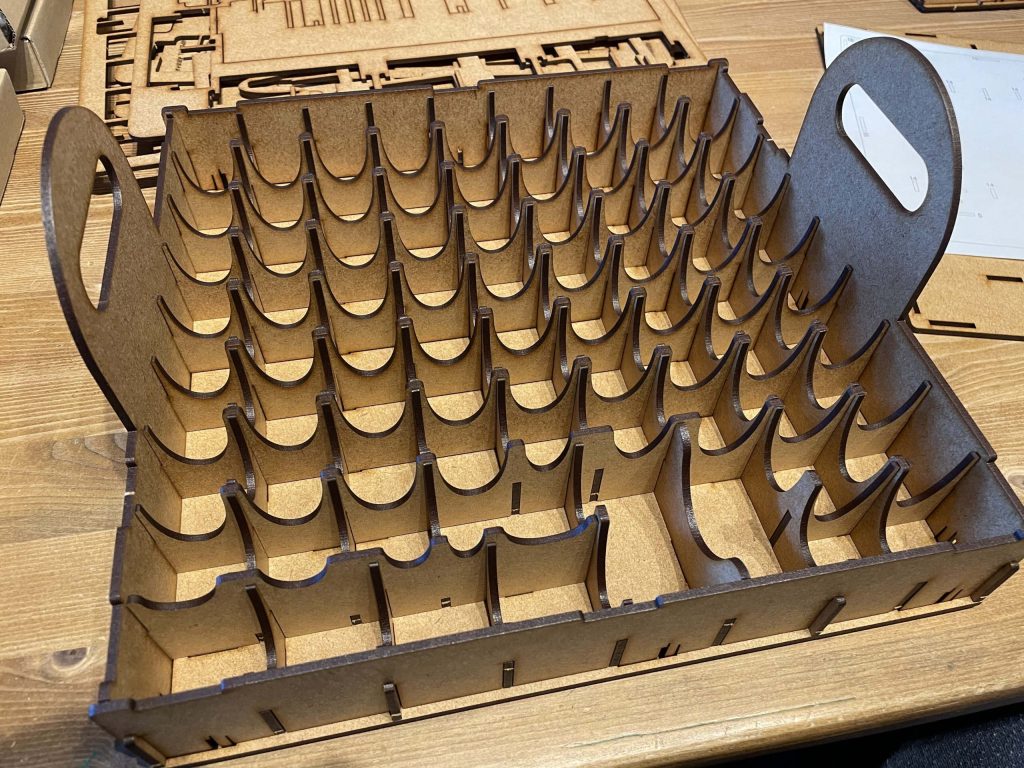 Imperial Assault Card Storage
Card storage is another almost great solution. Firstly, if you own ally and villain packs and sleeve your cards then you very quickly start to run out of space.
There are fixed dividers too, this is a good, but not the best, solution. It really helps organisationally but I would prefer removable dividers that I am able to freely place in each container which would allow me to sort my cards how I want
.
A workaround would be to print some stiff card dividers or to laminate some inserts to separate the cards even further, you can find an excellent example by downloading the file associated with this page or if you have time you could even make your own.

The main issue with the card storage is the fact that it is once again a part of the box. I want this storage on the table when playing, I want access to cards and I think an entire layer for cards, perhaps stored in one of the smaller expansion boxes like Tyrants of Lothal would have made more sense especially if they were separate entities.

At the moment the card storage also houses the hero figures, if this space was utilised for additional card storage then there would be more than enough room to freely house all of the cards and moving the hero storage to another box would give enough room to house the hero and villain packs perhaps.

Look at the image below and imagine the Smonex card solution for Gloomhaven used as the Star Wars Imperial Assault storage solution.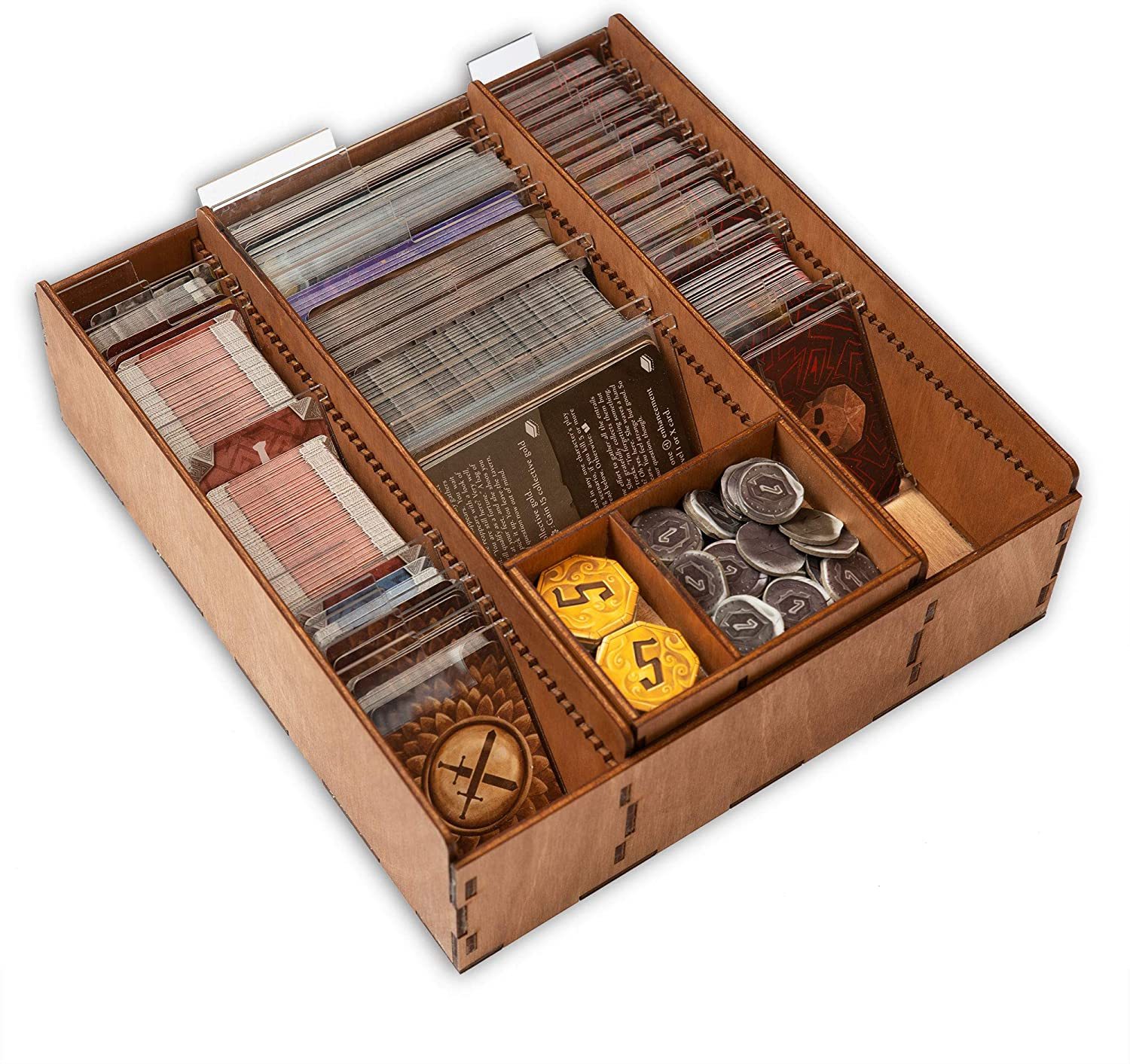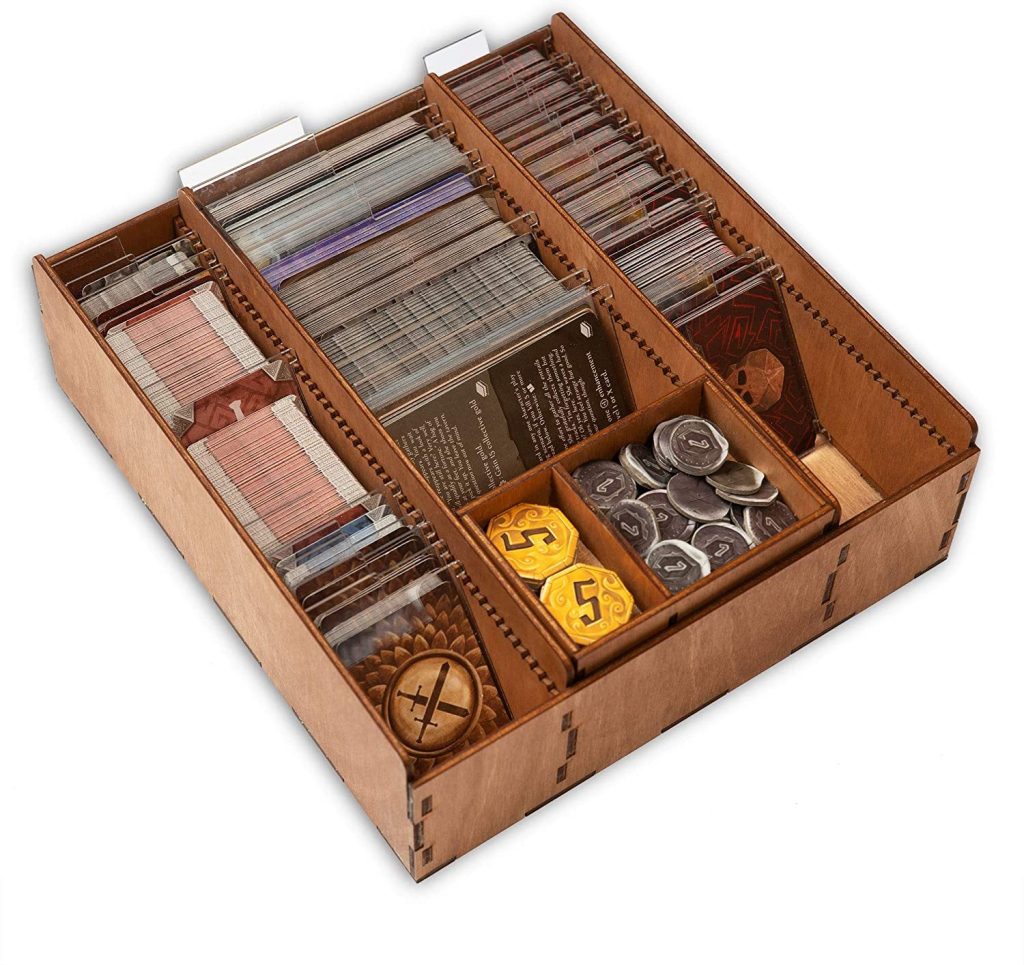 The long and short of it is, e-Raptor have done a great job of trying to house an enormous game in as few boxes as possible. For the most part, they have achieved their goals but they had to make compromises and save for a few exceptions this is a great solution.
In fact, if you live in Europe this is potentially the best solution you will be able to find that won't require a second mortgage to fund.

I have most of the Star Wars Imperial Assault collection, I need a few Ally and Villain packs and I am waiting for Return to Hoth and Heart of the Empire to be delivered so for the most part I have rammed my current collection into this insert but have had to make compromises and that sums up this entire insert. After my latest purchases arrive I will be back to homemade solutions that just don't function as well for gameplay which is after all, why we have these games in the first place.

The map tiles are the bane of any Imperial Assault player. How do you store them for easy access in an organised way that makes finding the tile you need simple?

Well, e-Raptor chose the only sensible option; ignore it!

That's right, there is nowhere in this storage solution for map tiles. You may think I am being critical, I am not. There is no way to organise the map tiles in a simple way that makes finding the tile you need simply, using a box insert. Simple.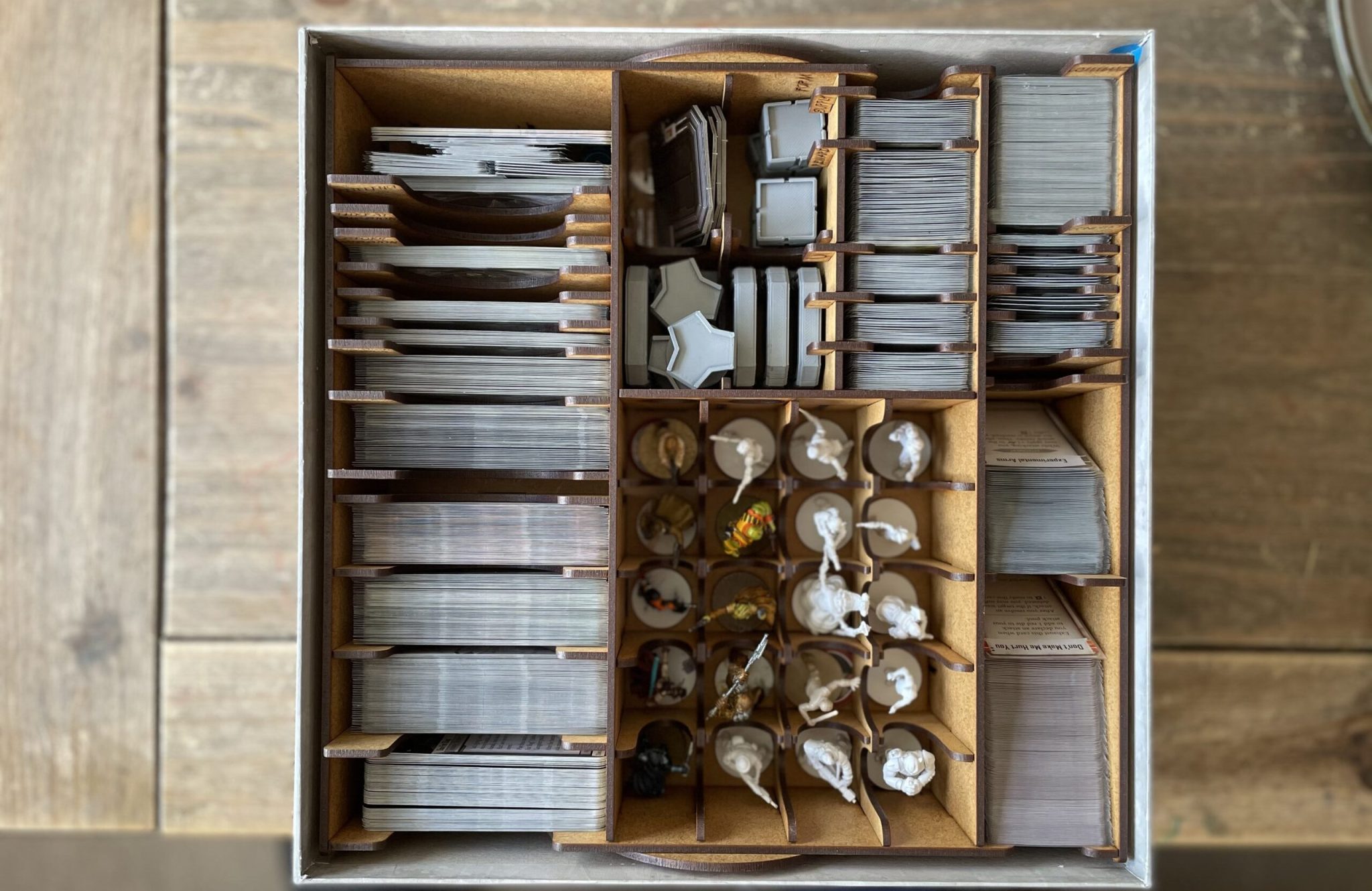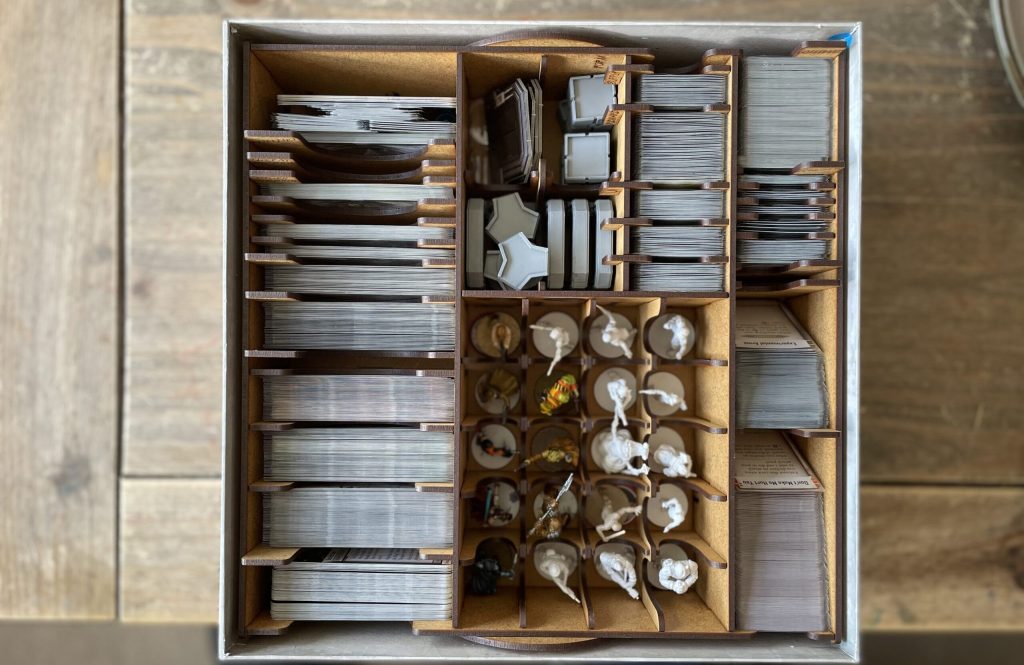 Instead, e-Raptor suggest you store them in spare boxes, I suggest you use a filing system which I will go into more detail when I finally publish my Star Wars Imperial Assault Deep Dive in which I talk about the game, gameplay, storage solutions, game modes, expansions and everything else surrounding the game.

For now, here is my recommendation regarding the e-Raptor Star Wars Imperial Assault + Expansion Organiser. If you live in Europe or anywhere that shipping costs from the USA would be $100 + then this is the best insert for Star Wars Imperial Assault and its expansions full stop.

I hope e-Raptor, after seeing this review, have another look at what they could achieve by implementing a few changes to the current system, this is a great insert, it works but it could be a fabulous insert that addresses all of the issues surrounding getting Imperial Assault to the table.

We don't just want to store parts of the game, we want to store all of it but we also want to be able to play the game with ease and I do not envy the task of anyone trying to solve the main problem with storing this title, fit it in its boxes, get it to the table quickly and protect the money and time I have invested in this game.
These dividers are available at Board Game Geek and are the work of arian_m
Star Wars Imperial Assault Dividers (371 downloads)