The e-Raptor Card storage box comes in a variety of designs and styles that will suit any mancave or girlcave, no, that sounds rude, ladycave, no that's worse, woman's cavern?!
If I am sent a product to review, I always like to let you know that my only loyalty is to the truth, I will tell you how I honestly feel about a product good or bad and this Card Storage box was sent to me for free to review.
I was sent the design called Inferno and I love the style but there are currently 16 different designs to choose from including plain boxes and simple etched styles which are all available to view here https://e-raptor.pl/storage_boxes.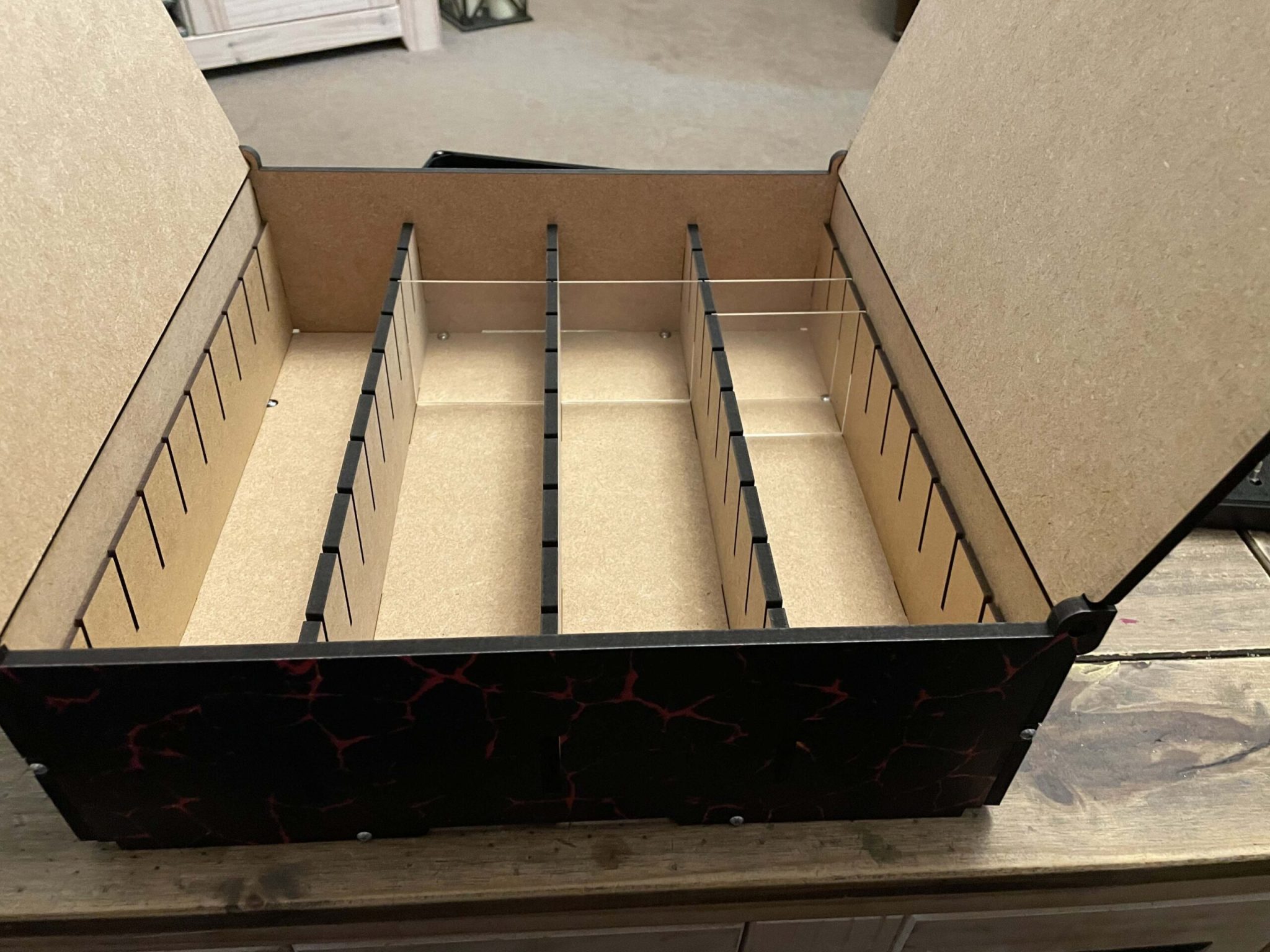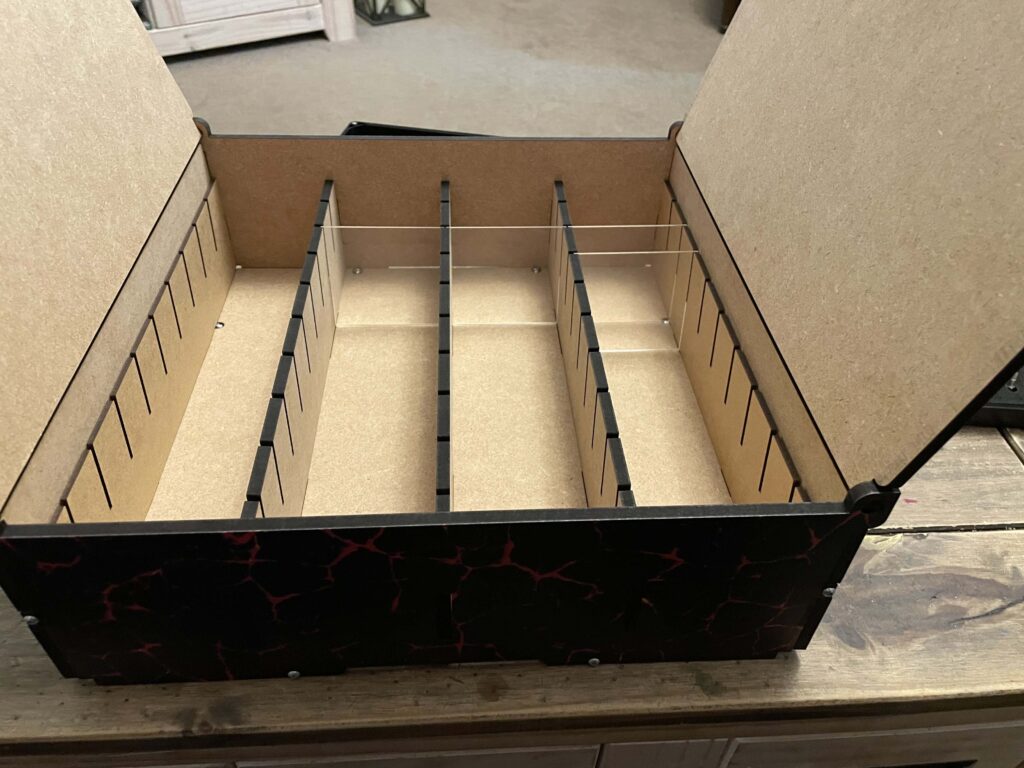 e-Raptor are prolific designers, they potentially have the largest collection of box inserts, storage solutions and board game-related table accessories than any other company out there.
This box is laser cut from 6mm MDF and the assembly was really simple. They have an ingenious little bolt solution for securing these boxes in place and the whole design is sturdy. It feels like a reliable place to store your special cards however, this box has no locking mechanism so it may not be best suited for travel.
Now I have a modest Magic the Gathering collection. I got rid of an enormous collection when I stopped playing several years ago and only recently bought a draft booster box, 3 bundle boxes and 5 prebuilt decks for 2021 core. As you can see from the images I took, all the cards from the aforementioned barely fill one column, so this box is surprisingly cavernous and would be a perfect storage solution for a card-based game such as Marvel Champions or as they stack you could buy four and store your entire sleeved Arkham Horror LCG which currently has 4643 cards or there is a Big Box which costs €48.00 in MDF or there are two wooden options which look really nice, €85.01 in plain or €100 in black and they all hold a staggering 5000 cards.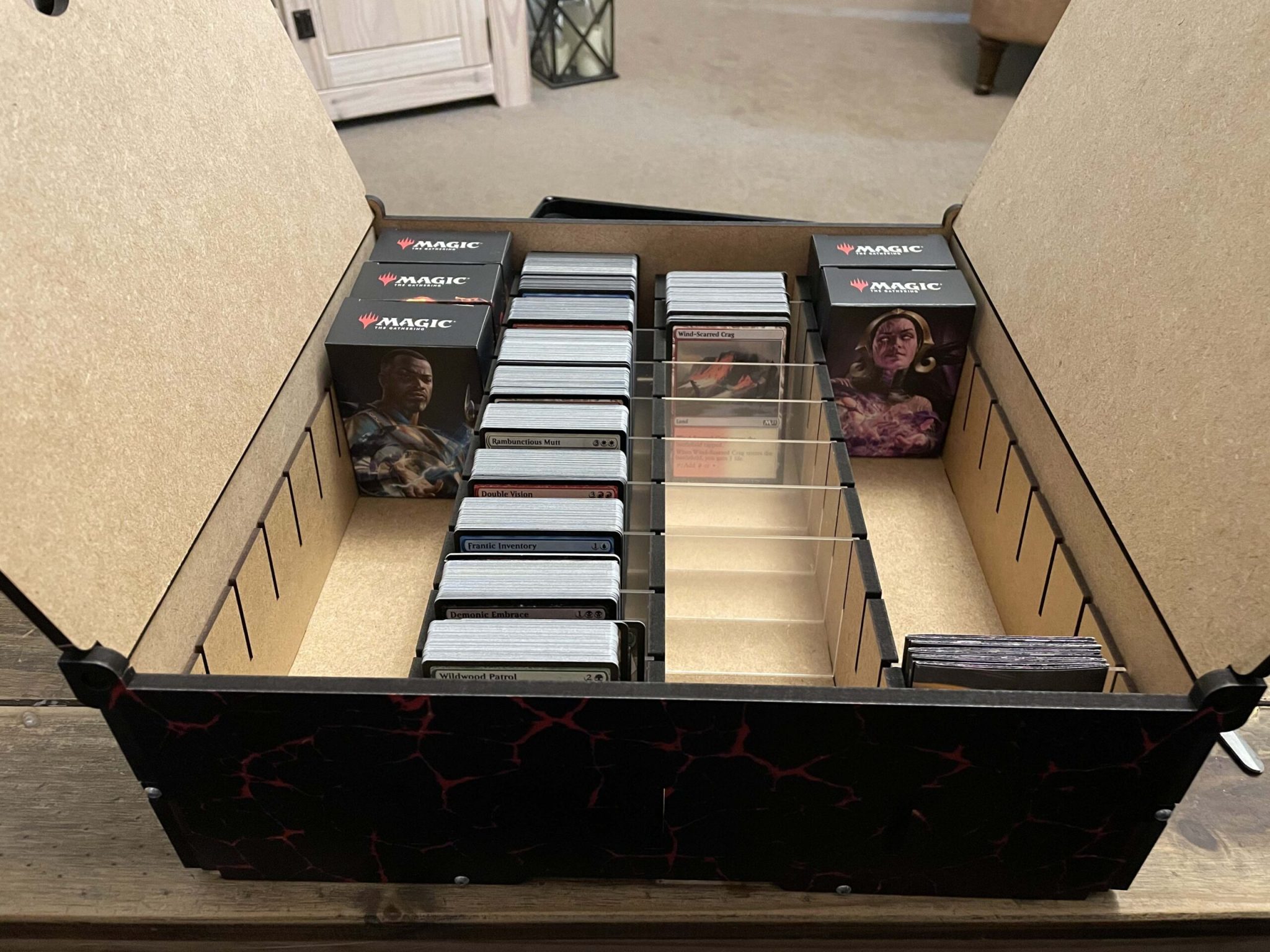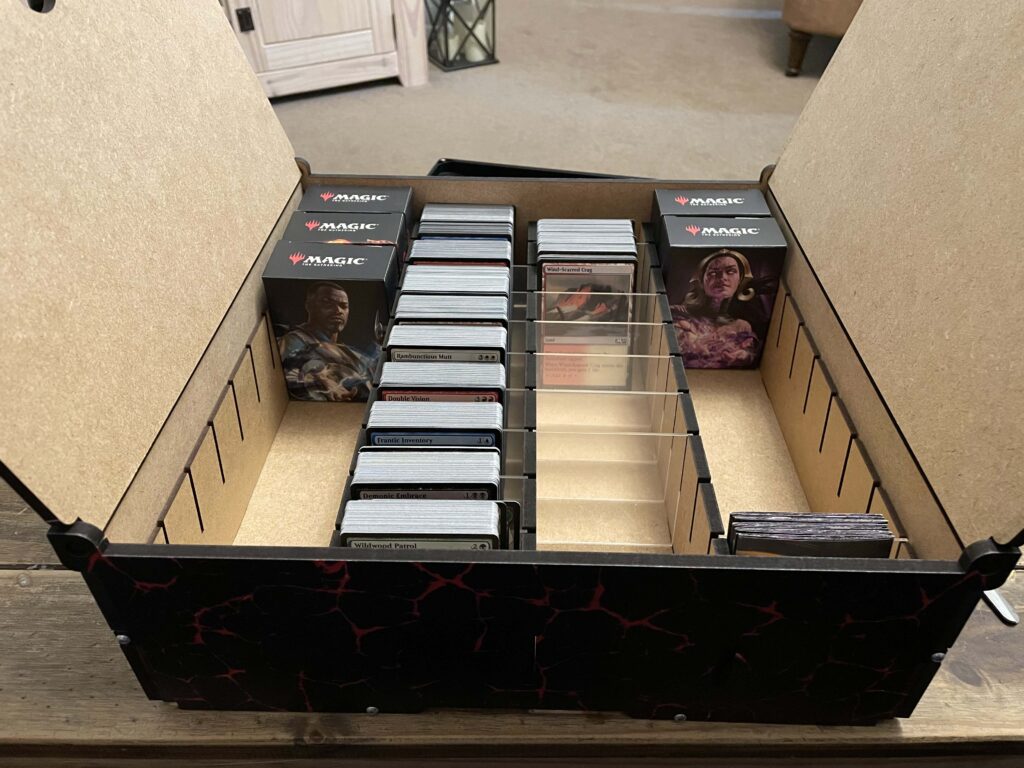 I am currently using the box to store my Magic collection so am using two columns for this which means, until I purchase more there was a lot of space. Not wanting to waste this I have been using it as a safe space to store my primed but unpainted minis as I am so confident in its ability to protect them from damage plus it looks really cool as opposed to the plastic tub I was using.
I am quite impressed overall with this Card Storage Box. The 6mm MDF is a very sturdy medium and the 15 acrylic dividers are more than enough for most things but you can always purchase more if you need to.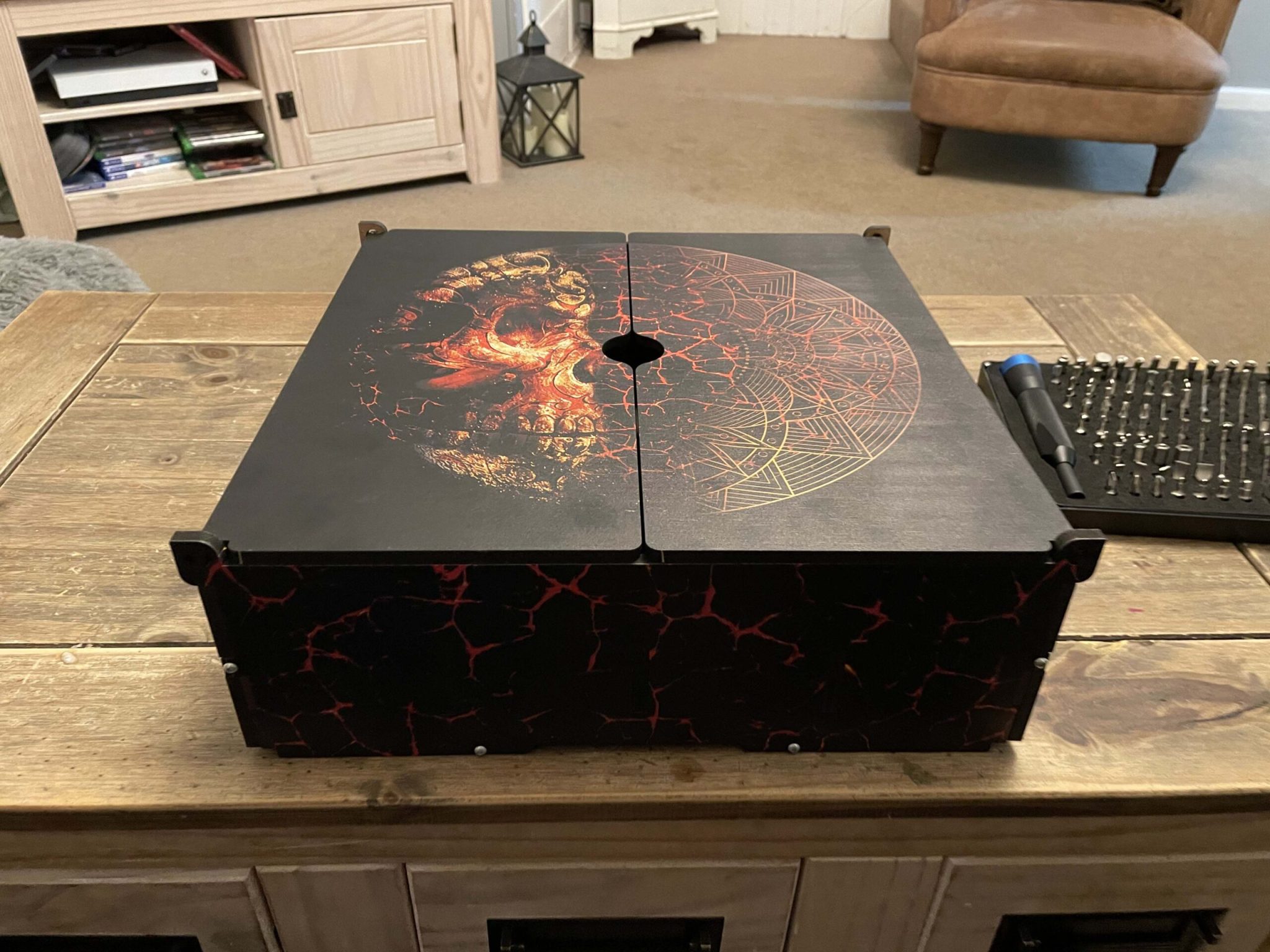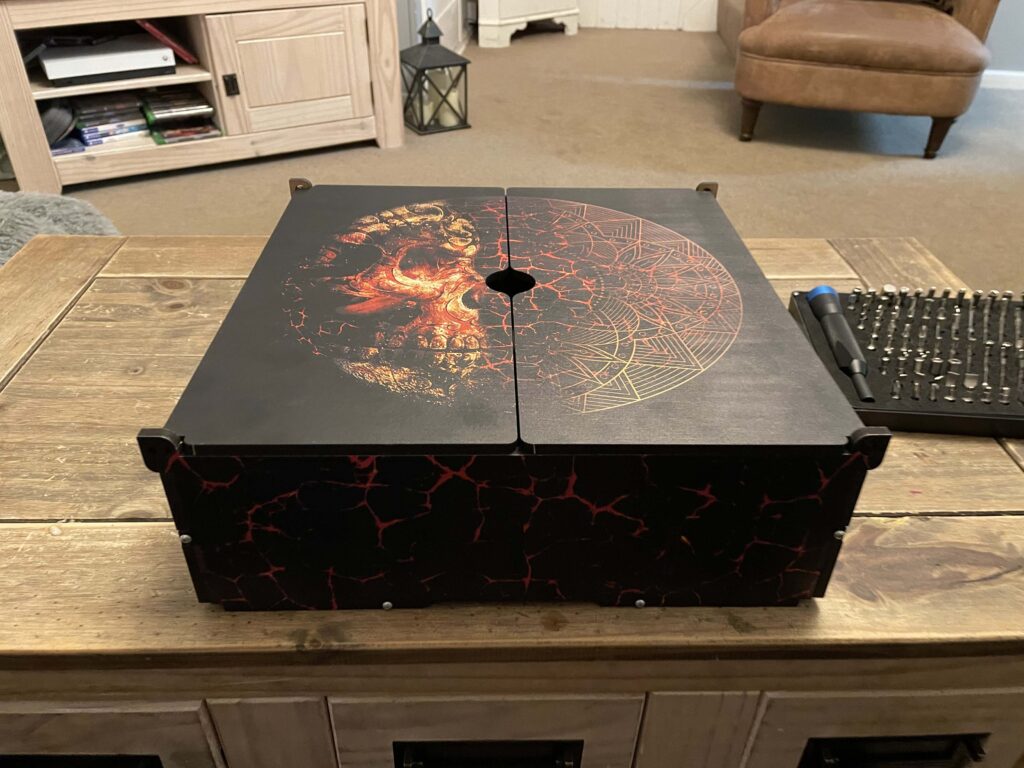 I think the boxes are attractive enough to have on display and the Inferno sits nicely amongst my board game collection right next to Mansions of Madness.
I still have my "special" Magic cards in a display folder but since this box arrived, I do feel more worried about them getting damaged as it highlighted how flimsy a storage solution my files are.
e-Raptor charge €29.75 for plain or €33.91 for a box such as the Inferno. You can purchase extra dividers for €5.20 if you want to separate your cards into more categories.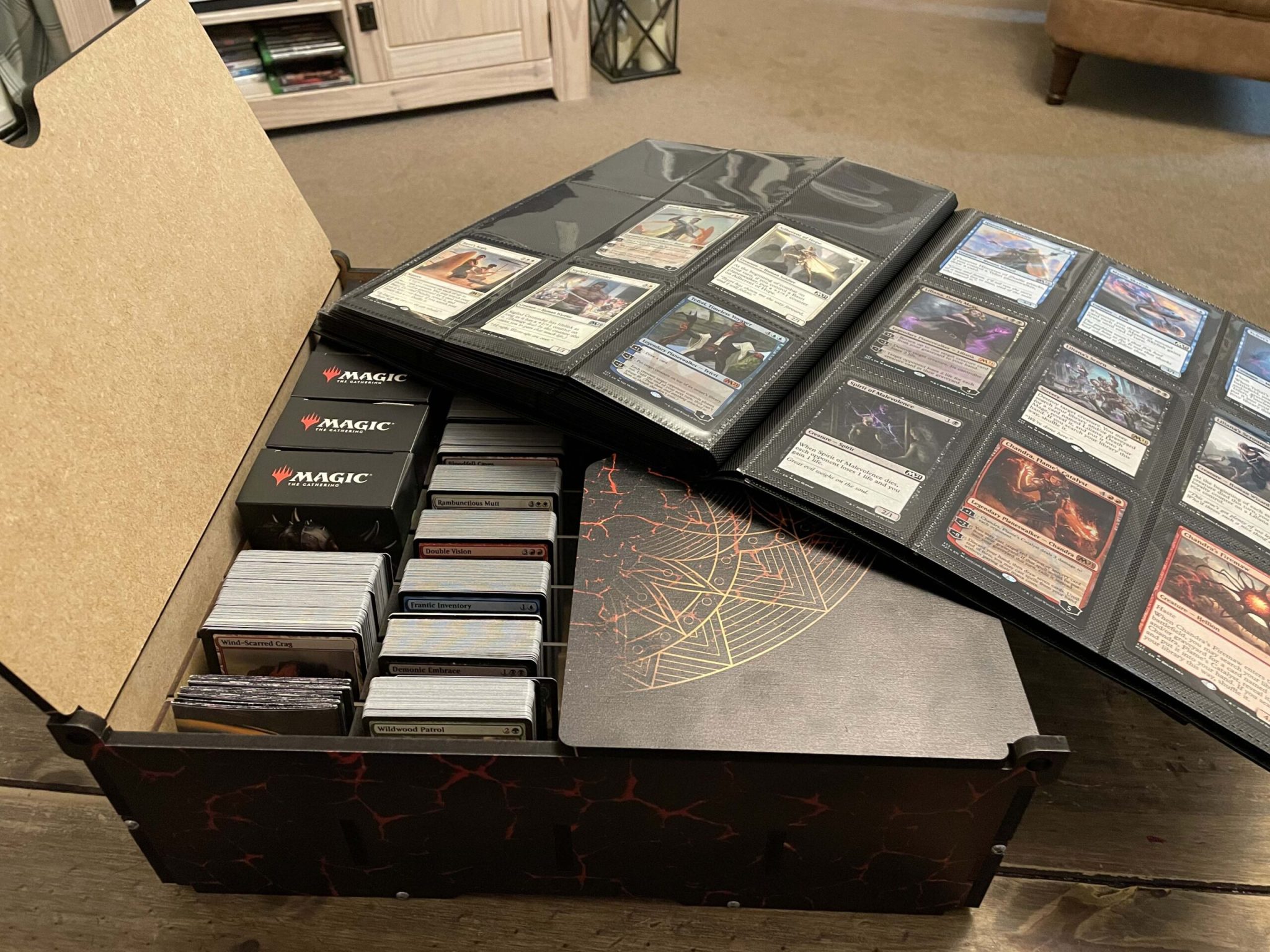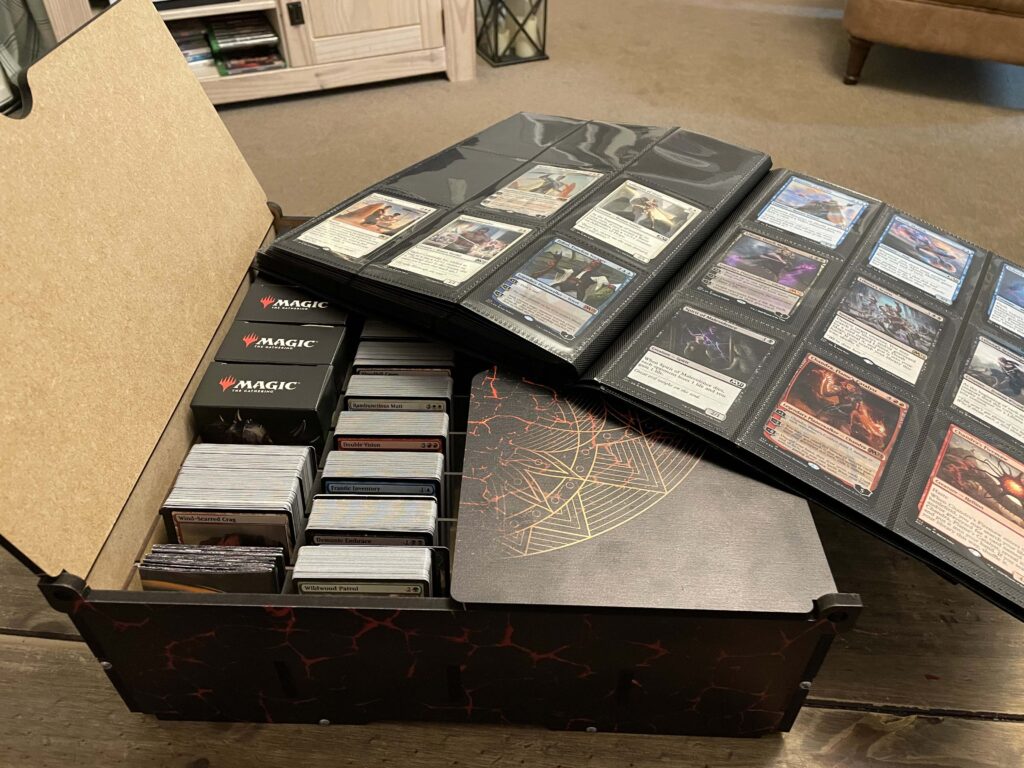 In Summary,
Whilst it's hard to write about what is essentially, a box, there is plenty to say that is positive about this particular Card Storage Box. The QC at e-Raptor could be better as my box arrived with some damage on one of the lids where it connects to the side of the box but overall this is a very sturdy solution that will protect your cards. Let's be honest, we spend hundreds buying our games and cards but rarely think a lot about keeping them safe at home. This is a great option and for me possibly the best solution for a game like Marvel Champions or Arkham Horror LCG which continue to grow as more expansions are released. For serial Magic The Gathering buyers this could possibly be too limited/expensive to house your entire collection but we all have those "special" cards that I think that these boxes are perfect for.