The e-Raptor Descent Insert for Descent: Journeys in the Dark was so close to being great that with a few tweaks it might just become the perfect solution for the base game, however, it gets some things very wrong and this ultimately left me feeling very underwhelmed.
Before I begin, I want to be clear that I was sent the E-Raptor Descent 2nd Edition to review for free by E-Raptor. This will in no way influence how or what I say about the product as my loyalty, as always, is to the truth so that you may make an informed decision when choosing to purchase or not.
The problem that E-Raptor has is the demand for each of its products. How much R&D do you input into a product that you might only sell a few hundred units of over its lifetime?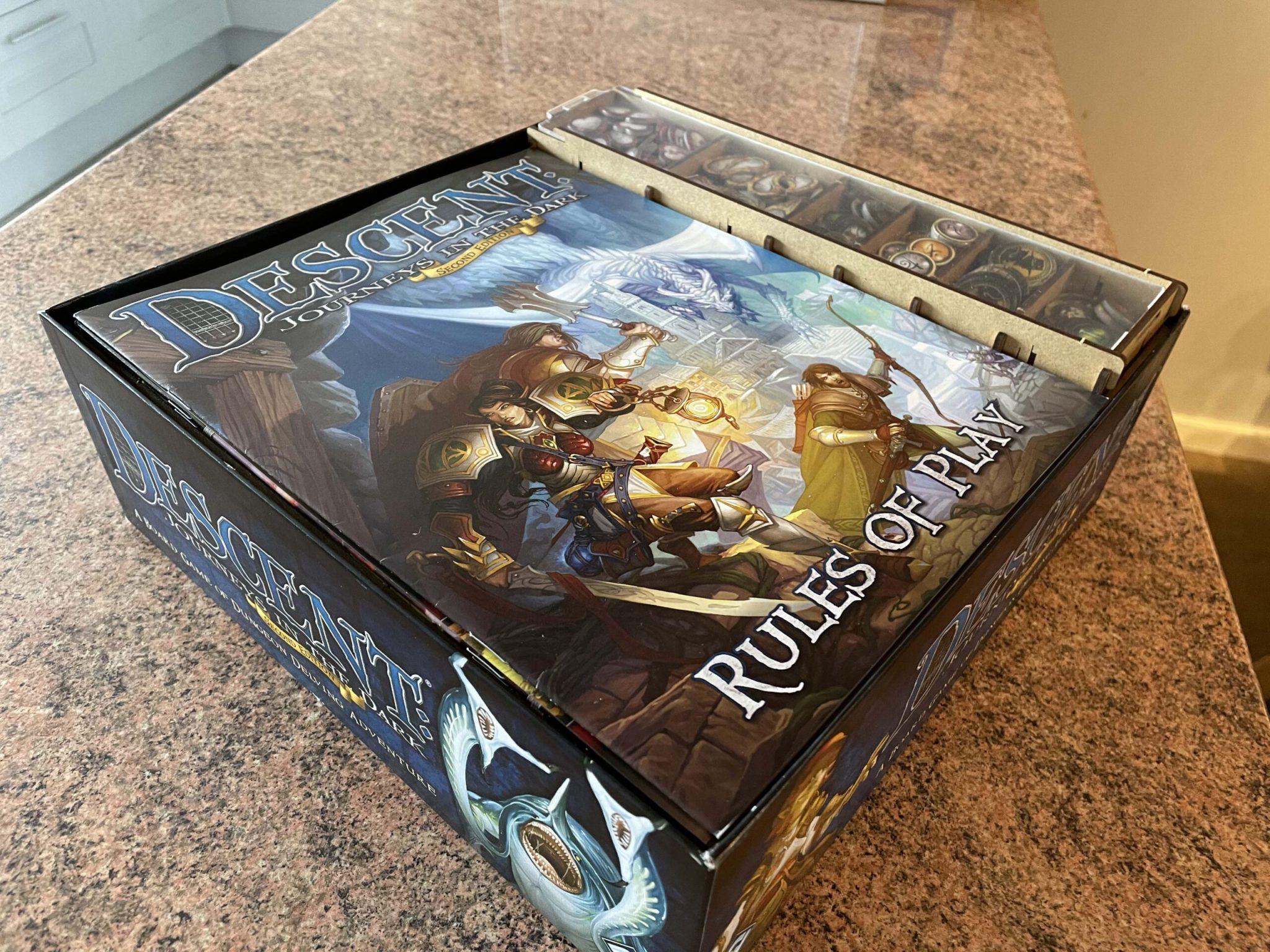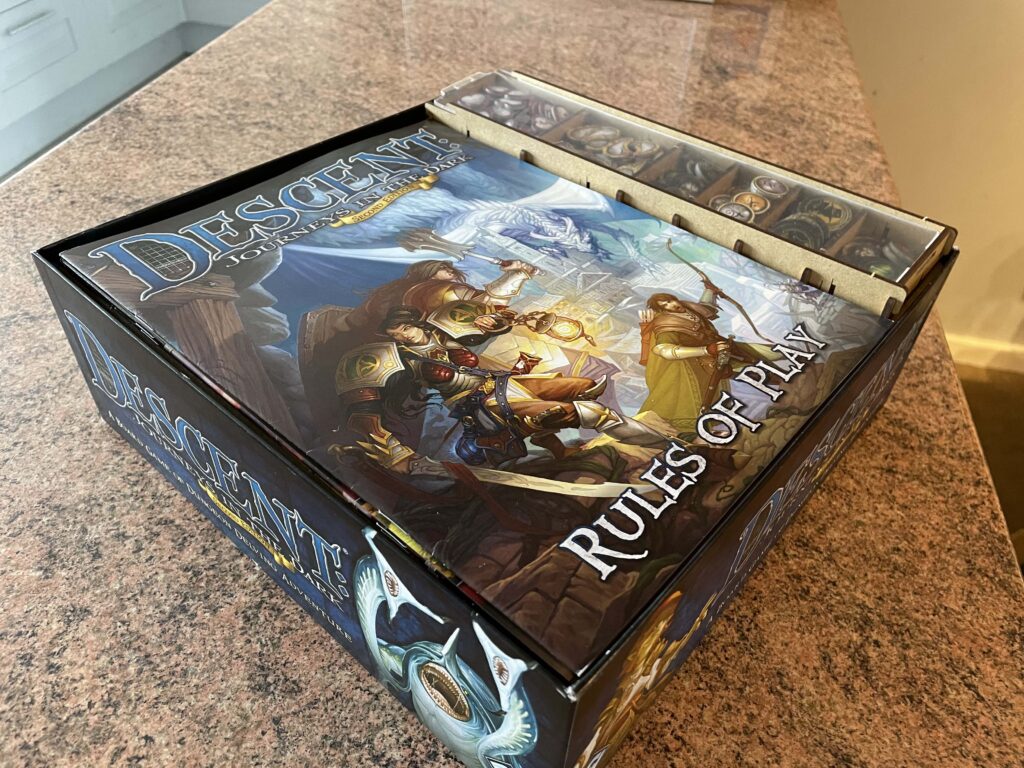 Assembly is simple despite the instructions being so meagre. There are several MDF sheets with a number printed on each 1/6, 2/6 etc and a couple of sheets of paper with a blow-up of the items. You have to find each piece on the corresponding sheet but you need to search the boards for the corresponding item and make sure its oriented correctly. It's not difficult but a better solution has been seen on many other manufacturers instructions and E-Raptor could take a leaf out of their books in my opinion.
Think about how the designer had to put the manual together, what language will your client speak? Europe alone has 24 official languages, this is E-Raptor's doorstep internationally speaking. How do you make a manual using simple pictographs depicting how to build your design and have everyone able to understand it? In reality, this simple sheet is a testament to the thought that has gone into it however, it works, but it's a real pain in the arse if more than one piece comes loose in transit.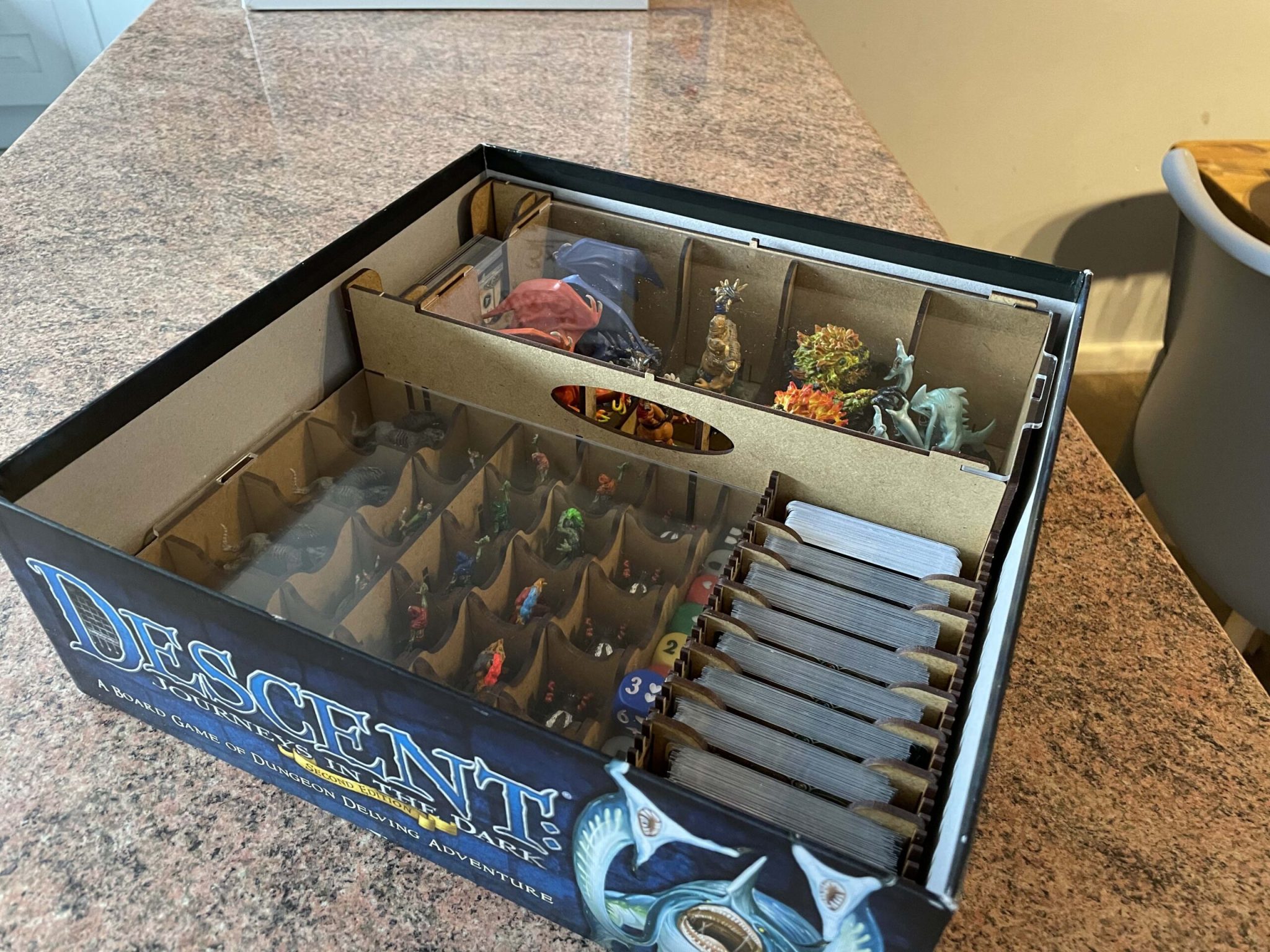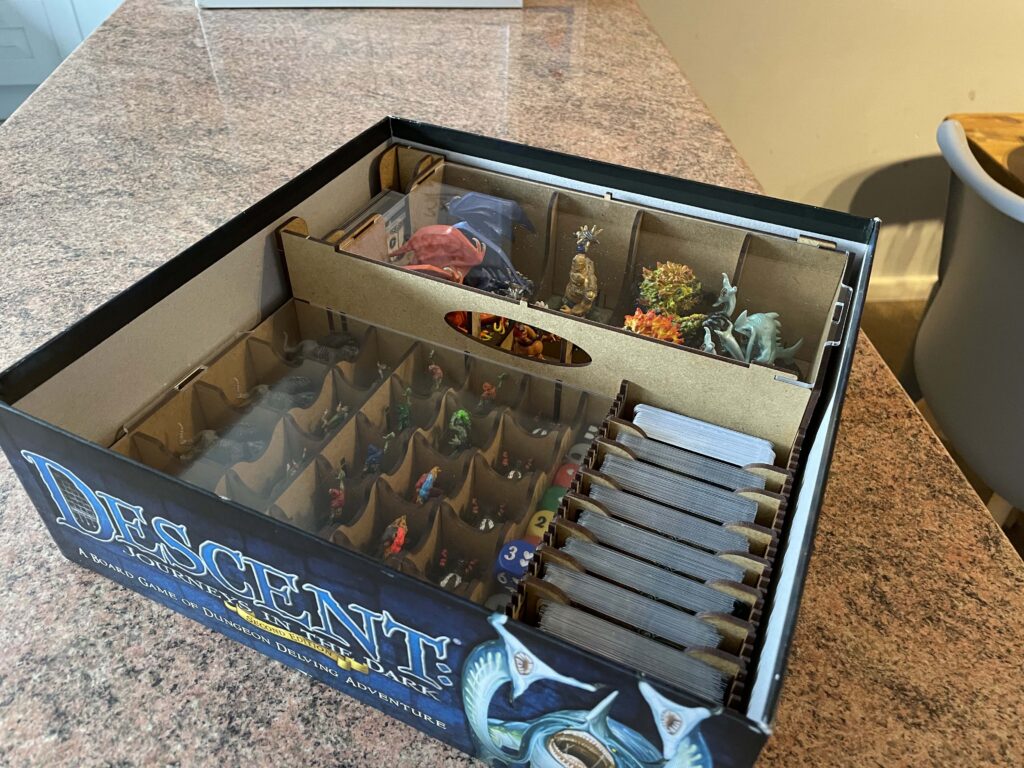 My suggestion would be to add a number to each piece, this would increase the time it takes to create the product; however, it would help customers immensely and then on the instruction sheet a simple arrow determining which piece is aiming at which slot would make things far easier to understand.
Buildling the e-Raptor Descent insert
After building the E-Raptor insert for Descent 2nd Edition I had high hopes for its practicality both as a storage medium and as an assist when playing.
Firstly, given this insert is made from MDF and not a more attractive medium like a birch ply, for instance, it actually looks quite attractive when completed.
The acrylic tops covering the token trays and figures make the insert look far more premium than the sum of its parts.
I think I will paint the set grey or white which will upcycle the e-Raptor Descent insert and give it a more pleasing look whilst sitting on the table during play.
In terms of playing the game, the E-Raptor insert for Descent 2nd edition is as bad as it is good. Let's start with the mini storage.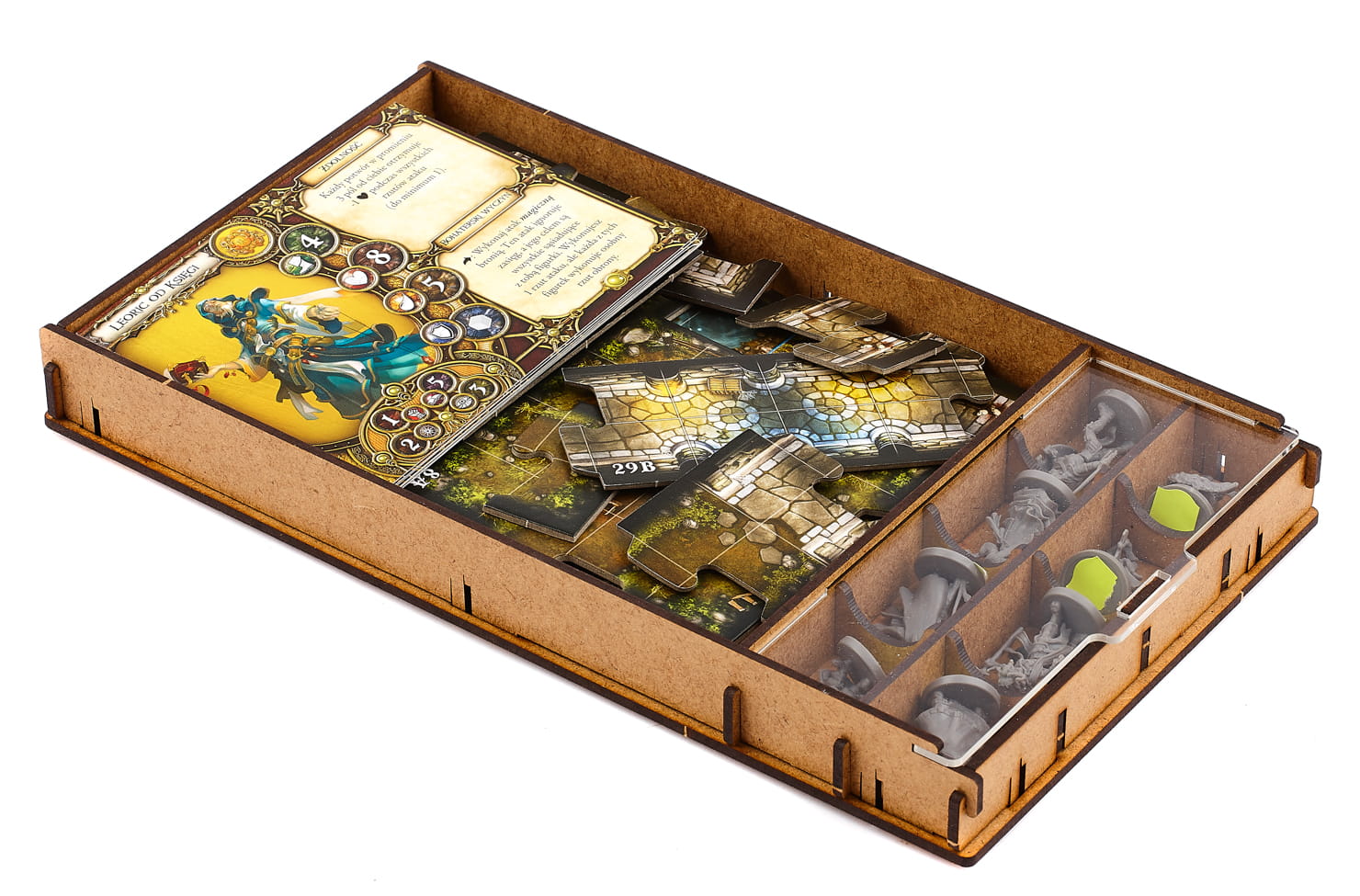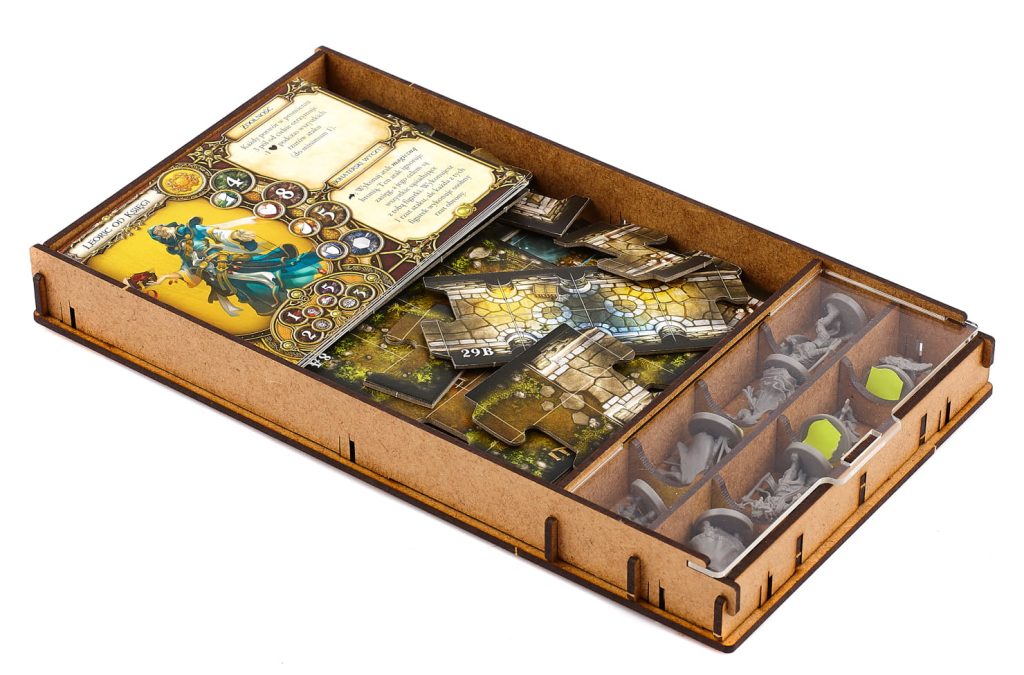 This is, for the most part, excellent. The Shadow Dragons, Ettins, Merriods and Elementals have their own, segmented compartment which also has an acrylic top which I think is fabulous for my painted minis. I spent many hours painting them and making sure they are not getting chipped or damaged when stored in the e-Raptor Descent insert is very important to me.
I love the storage for the Goblins, Flesh Moulders, Zombies and Barghests but why are the compartments for the Cave Spiders as deep as the compartments for the aforementioned components?
The compartment for the Dice is equally absurd. I am an average size male and my finger doesn't fit into the deep cavity to remove the dice without twisting it, this means I can only remove one at a time. It's a small gripe but for the sake of an extra component raising the spiders and dice, this would not have been an issue.
Moving on to the card storage, there are separate dividers which means I can store my cards how I want, separating them into whatever categories I find most useful, however, the width of the card trays is quite large so even my sleeved cards have wiggle room, there could have been a far better use of this space perhaps giving more room for the dice storage. There are plenty of dividers but the compartment is a part of the larger bottom. It would have been better to have the cardholder as a separate unit so that it could be brought to the table more easily. I would have again liked to see some details added to the trays and would be happy to pay the extra few pounds these touches would have added to the overall cost.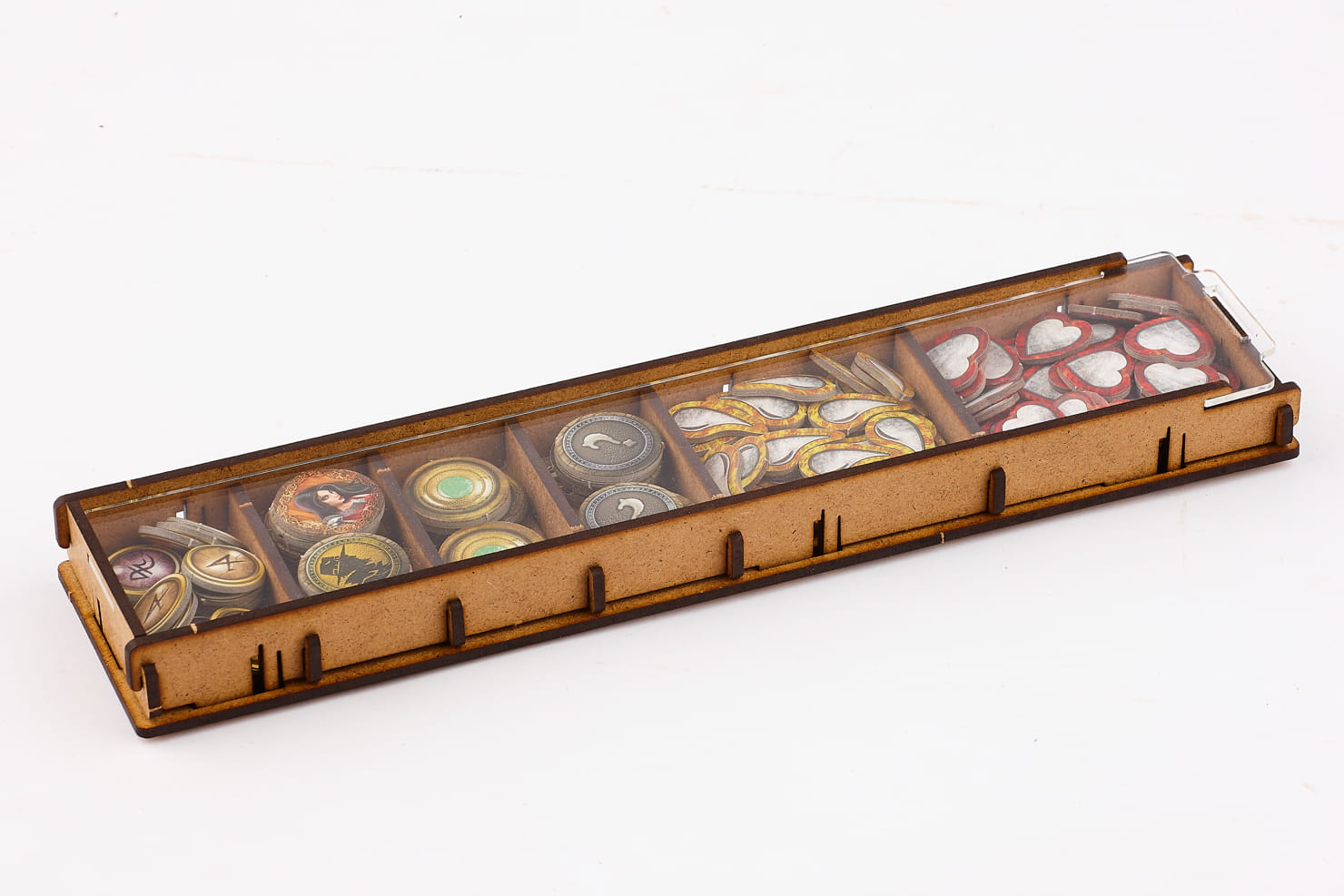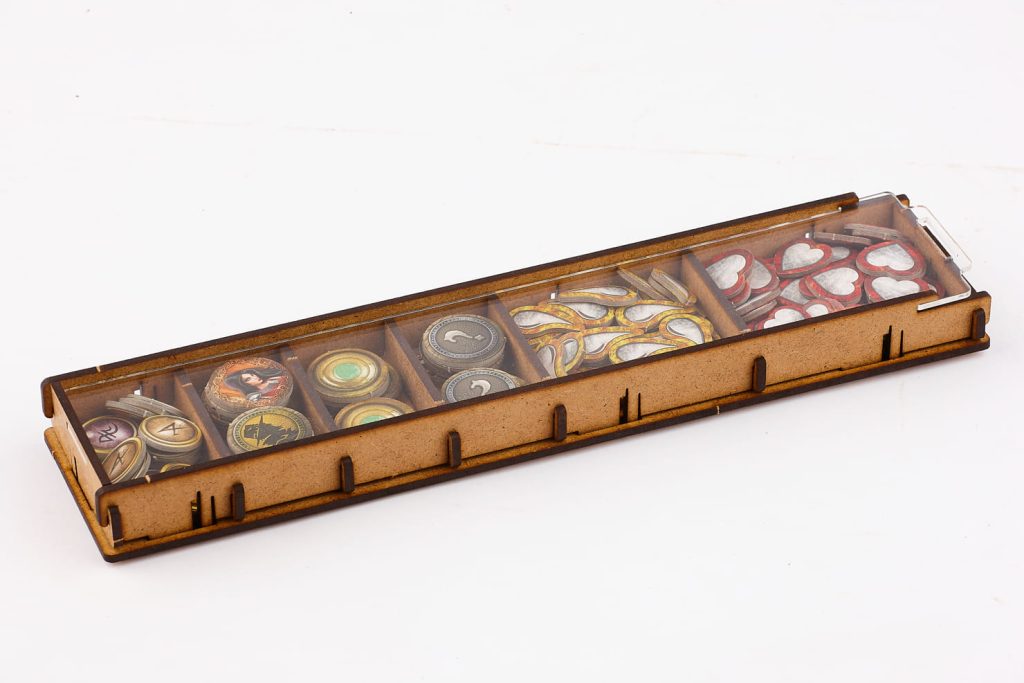 The token trays with acrylic tops are perfect for the table and with a small amount of extra laser time this set could have been something special.
The thinnest tray that holds the villain cards, also has, in my opinion, wasted space. It also holds the door cards and their respective stands but there is a large gap between the doors, open and locked. If they had just been stacked together there would have been space for the NPC character tokens.
The tokens are held in a very useful tray. It has an acrylic top and is great when it's on the table. However, it's too small and thin. The counters don't fit adequately and the condition counters have to be mixed together. The worst part of this is that I cannot find a way to make this component fit into the box.
The entire insert sits proud on one side by about 10mm. If this is the case then why not use one more sheet, charge more if necessary and make a full-width counter holder that could incorporate room for the dice and character sheets. Currently, the character sheets sit in the final container that holds the smaller map tiles as well as the 8 Hero Miniatures from the base set.
There is no room for any of the expansions with the e-Raptor Descent insert which is a shame but I have managed to add the additional cards from The Trollfens and the Lost Expedition expansions and found space to store the additional heroes, Harpies and Plague Worms so there is definitely space to be found.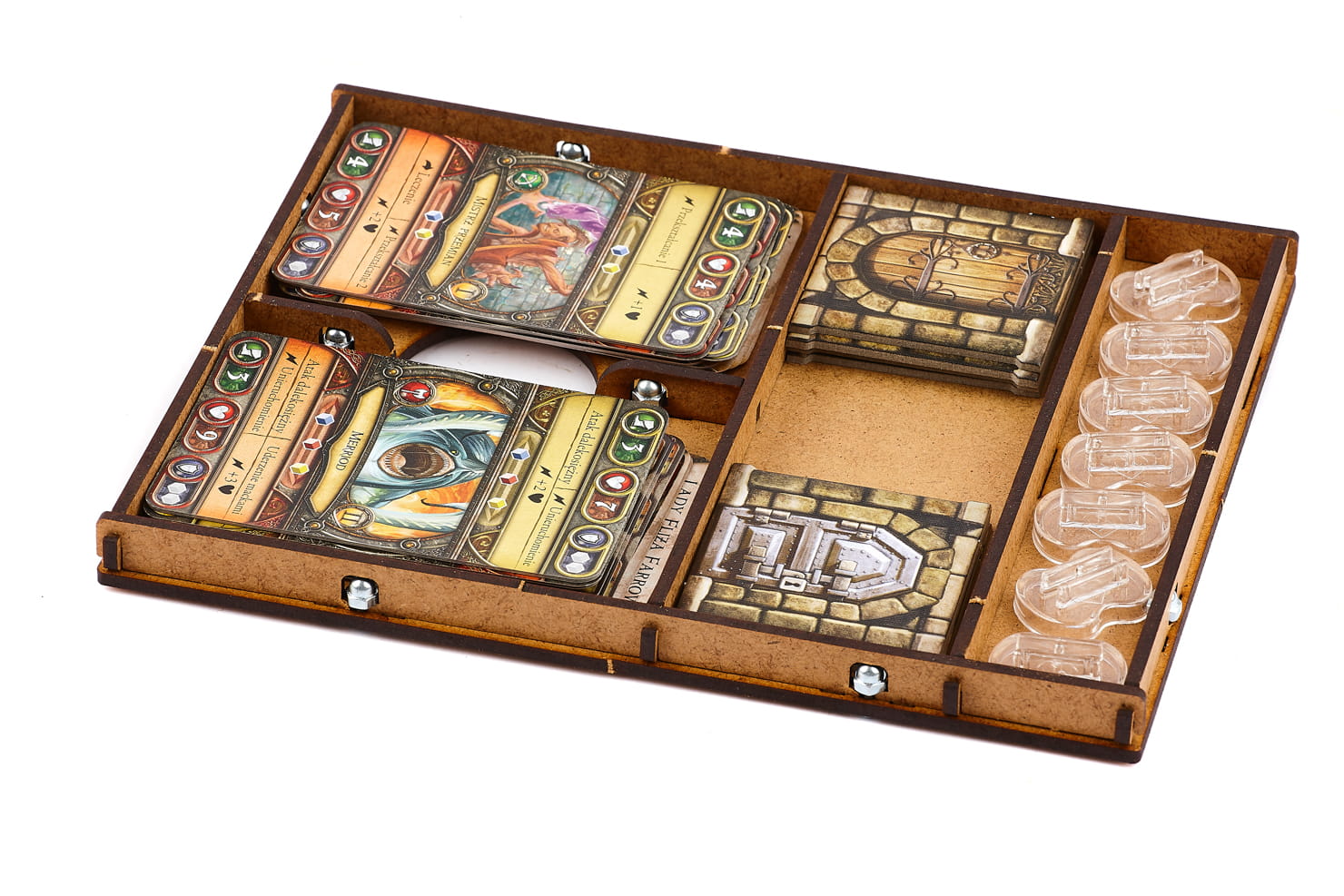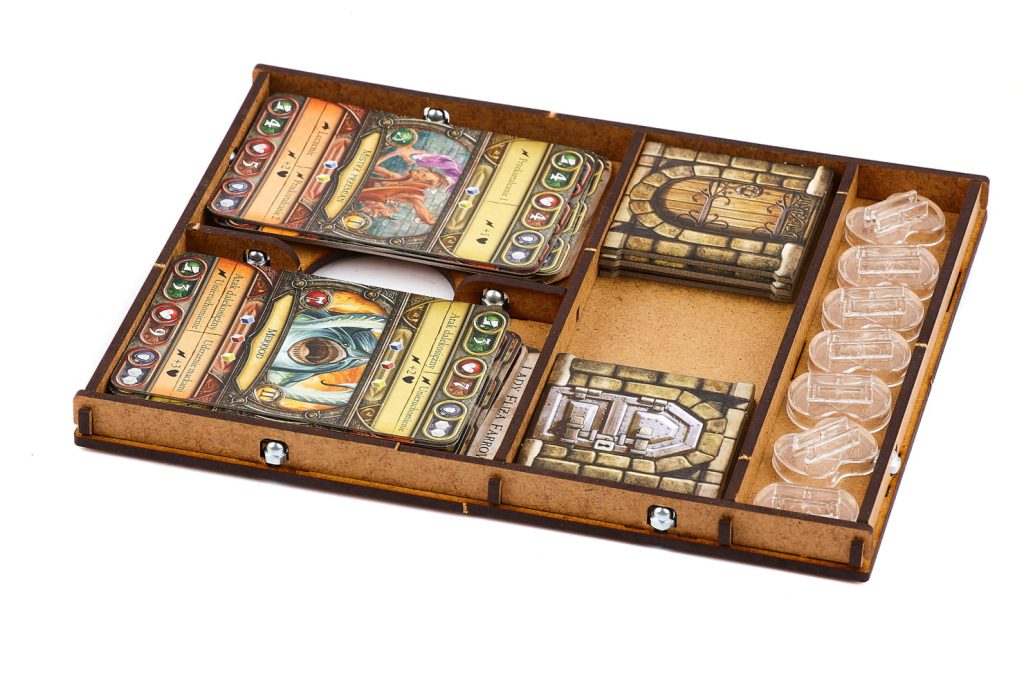 In Summary,
I was left feeling quite disappointed with the e-Raptor Descent insert for Descent 2nd Edition. It hit the mark on so many points and is so well machined it went together with no glue. They employ a locking system which is quite clever in its use that binds the separate pieces together like a giant Chinese puzzle so build times could be a lot less if the instructions were clearer.
There is a great deal to like with the insert, it works for storing Miniatures, it works for storing the entire game however, it could be so much better if there were a few tweaks to make things perfect.
Small icons or text to display which figure should go where small icons to show how the tokens were intended to be stored. A larger flatter token tray, a removable card storage solution and above all, instructions that show you how the entire package should fit into the box.
This is probably not the best insert for Descent 2nd edition. It's not even the best insert I own but it does its job to an adequate level, with a few tweaks this could be the best storage solution for Descent 2nd Edition and I really hope those changes are made to this version of the e-Raptor Descent insert because it really could be the ultimate solution for the core set. At €34.80 on sale, it's almost €5 more expensive than Feldherrs solution which has some definite benefits over this set but I cannot say this enough, with a couple of changes this could be the best solution I have yet to find.