The TowerRex Mysterium Insert is everything I love in an insert. It fits in the box, it contains everything neatly and it looks fantastic.
Take a look at the images, take a look at the details that have been added to the insert for no reason other than to make it look nice.
This is the mark of a designer who is not only making a container but someone who has thought about the use of their product.
Someone who wants their product on display will also want it to be pretty. The downside is the choice of material in my opinion. I am not a fan of MDF and I think it detracts from the overall impression you get from handling the TowerRex Mysterium Insert.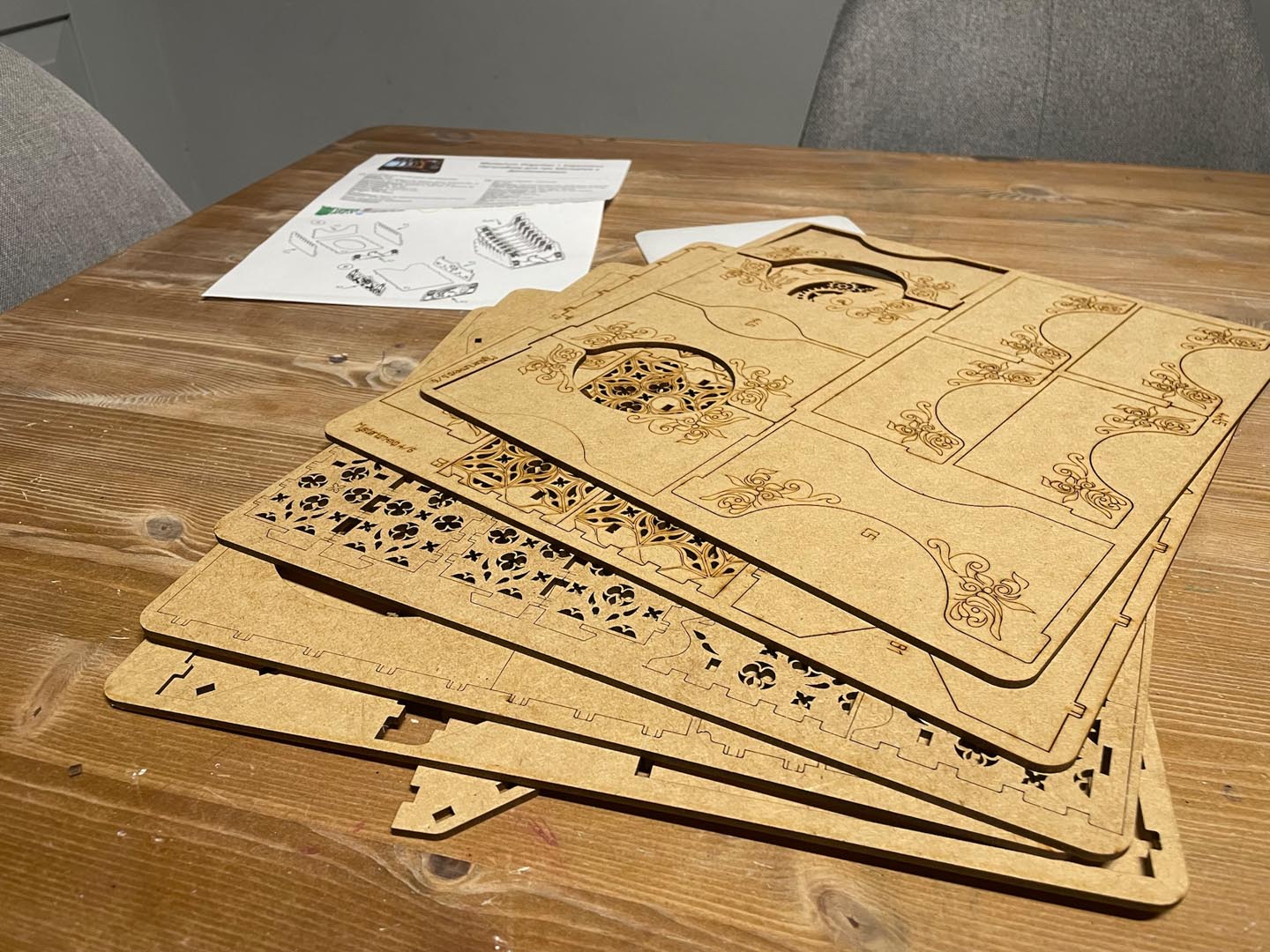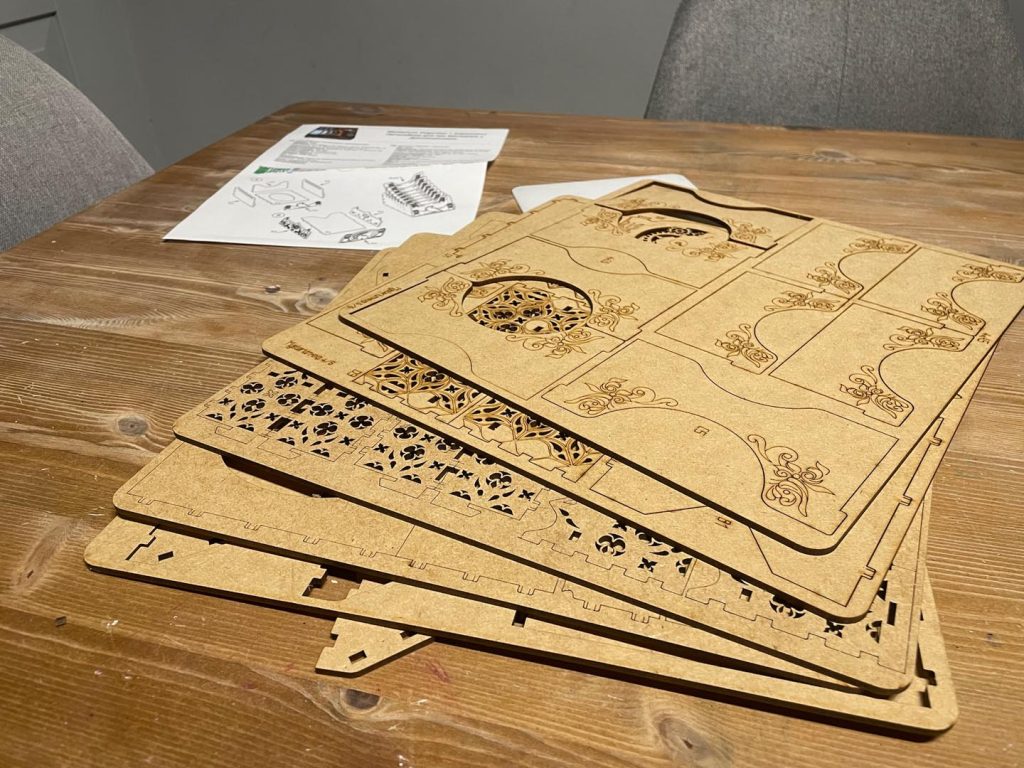 I know MDF is a more consistent material to cut with a laser, I know it has more rigidity than wood and I know that there is less warp with MDF and of course, it costs less but it's not all about function or even price.
An insert is not a necessary purchase, you could just throw everything in baggies or loose in the box if you were insane so you buy an insert because, like me, you love organising your games. I get as much pleasure from organising my games and sorting everything out as I do from playing, well, almost.
That said and despite the material choice The Mysterium insert from TowerRex is so pretty I think I would use it even if it was made from cheese.
Building the Mysterium Insert from TowerRex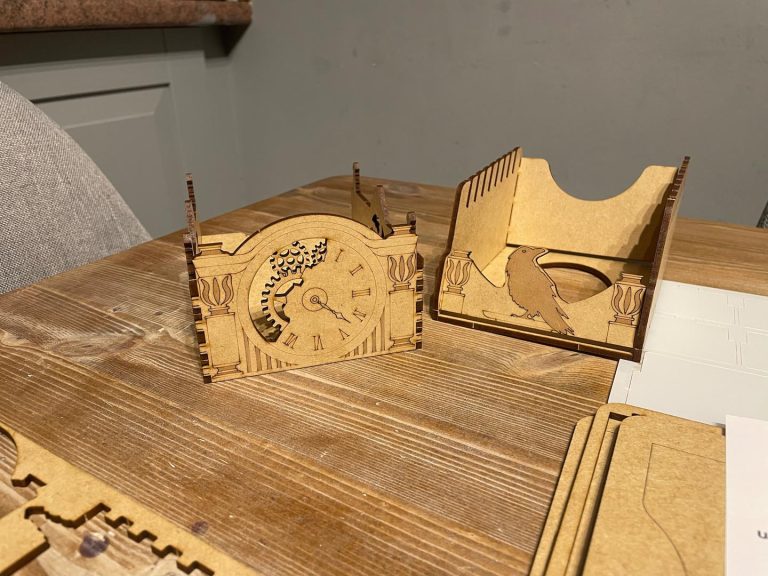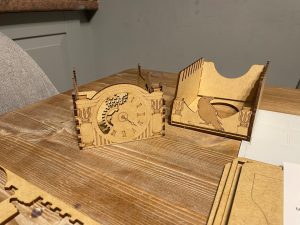 I put the Mansions of Madness insert together with relative ease and, having now put together countless inserts, I can say that The TowerRex Mysterium Insert uses the same clear and concise instructions that made putting together the Mansions insert so easy.
I used very little adhesive and no clamps as the parts are well-fitting even without glue. I liked the fact that the parts just held when I finally glued them.
What do you get?
There are a total of 5 sheets of MDF and a sheet of Acrylic in the TowerRex Mysterium insert. The components will pop cleanly from the sheets so be careful to only take out what you need for each component. Work slowly and methodically until you have completed each part and then move on to the next.
When you have finished you will have 6 small boxes with acrylic lids that hold the Psychics tokens and intuition marker.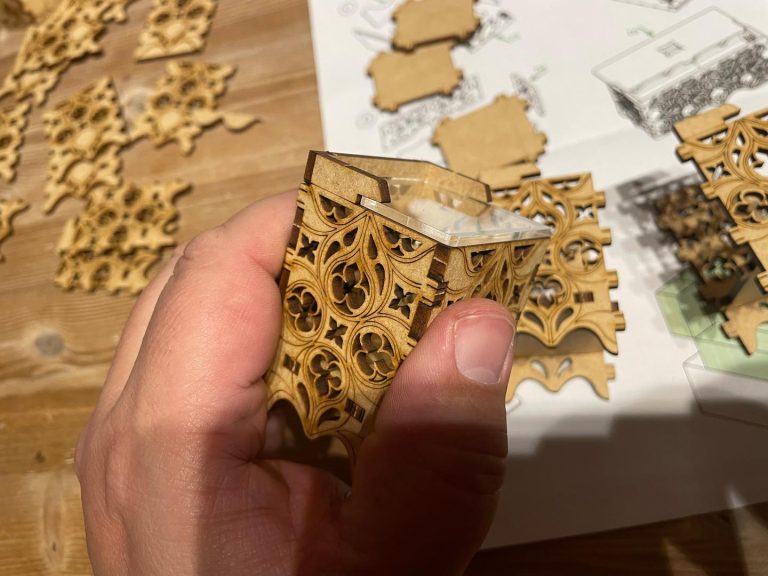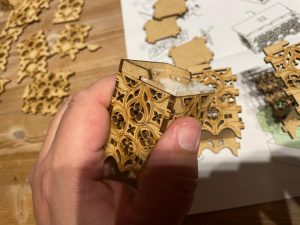 You will also have a long box to hold the Sand timer and other larger player tokens, that also has an acrylic lid.
There is a large cardholder with movable dividers. I have the base game and have no idea how many cards are in the expansions but I suspect you can fit all the ghosts cards in it even if you sleeve them because as you can see from the image there is an awful lot of space remaining in TowerRex Mysterium Insert.
I am also intrigued by something and the thought that runs through my mind, it takes me back to my younger days when I used to frequent Casinos because they were open late, sold beers and you could get a sandwich.
The dealers had a box that they would take cards from one at a time, I think it was called a shoe and as they ran their hand over the front edge they would pull a card.
My cards are not sleeved so I wasn't too keen to keep trying but I could pull my cards from the container like it was a dealers shoe. I am not sure if this is a design feature or flaw but when I eventually sleeve my cards I will let you know.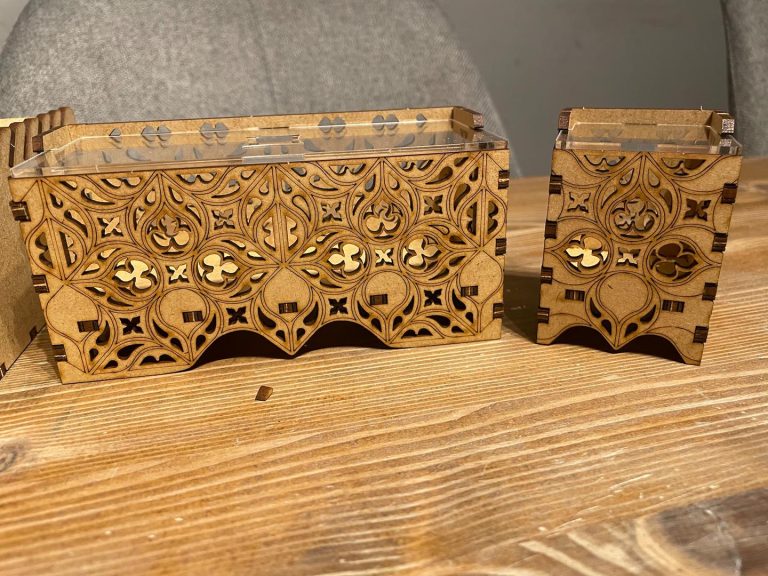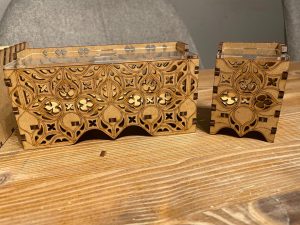 Next in the TowerRex Mysterium Insert is the small cardholder. Now, this also has dividers but there are enough dividers to fill each slot, I am using the first three locations for my cards and there are plenty more which I assume are for further expansions.
We also have a tray to hold the clock and the bars that divide the cards when playing (Yes, I have forgotten what they are called and refuse to look it up) which I also place the player envelopes in. OK, I did look it up and they are called Progress boards.
The Design is important
When you boil it down to its core, the TowerRex Mysterium insert is a way to organise your game. That is all it needs to do and it's precisely because it does more than that is why I love it, in fact, it's why many of my games have inserts.
Let's start with set up and break down. To begin with, organising your game means it takes less time sorting out the various components, that's why you separate things into baggies right?
If you have taken the time to separate your components into baggies, you must like the game and want to play it, so you want to set it up quickly. What is faster than removing the insert from the box and placing it on the table? Plus, if it's sitting on the table it should look good, shouldn't it?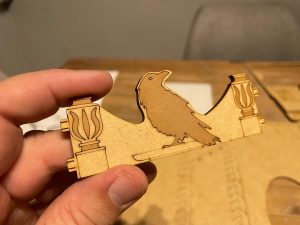 The TowerRex Mysterium insert looks incredible, the design is second to none and it's incredibly thematic. I want to paint mine but there are small flourishes that I worry I will lose if I do. The way the etching has been done to make the Crow on the front of the cardholder, pictured, almost shines.
Every box has cutouts that could have been left but they weren't, the person who designed this insert knows how to finish a product.
Useful?
It gets better, you can see from the images that this is a great insert, however, what you cannot see from pictures about the TowerRex Mysterium Insert is what it's like to play the game and have everything organised with an organiser that sits on the table and becomes a part of the experience.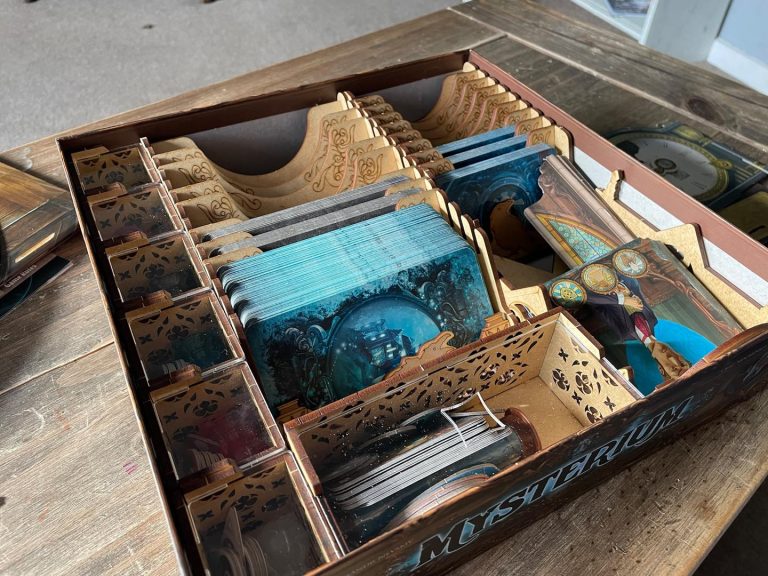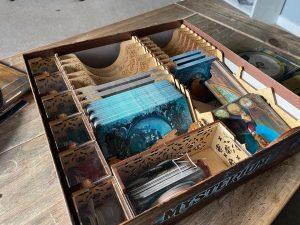 Handing out the player token containers and each person who has the game asking what it is called and where I got it from was one thing but imagine my surprise when some non-gaming friends played and said "These are cool" (Yes I am 48 and my friends still use the word cool). It made the game more interesting to them.
Set up and break down are MUCH faster with the TowerRex Mysterium Insert. I don't remember timing a Mysterium set up before now but it is faster even with new players. Breakdown, which I always insist on doing alone, takes less than 5 minutes and whilst there is a very tiny amount of lid lift when done it's minimal.
In Summary
The TowerRex Mysterium Insert is essential if you own Mysterium, furthermore, I think it should be compulsory if you own the expansions.
Currently, I have the base game, which means in the images I have shared there are 84 Vision cards and 18 of each Character, Object and Location cards and you can see how much room is left.
If you had both expansions, Hidden Signs and Secrets and Lies you would end up with a total of 168 Vision cards and 30 Character, Object and Location cards. I think there is more than enough room to house the entire Mysterium set in TowerRex's fantastic insert.
This is a fabulous insert and the only way to improve it, in my opinion, is to make the TowerRex Mysterium Insert from birch ply instead of MDF.